The Courageous
Who Have Looked At
Death In The Eye
Nuffnang
Miscellaneous
No Atheists
In A Foxhole
"When you're left wounded on

Afganistan's plains and

the women come out to cut up what remains,

Just roll to your rifle

and blow out your brains,

And go to your God like a soldier"


"We are not retreating. We are advancing in another direction."

"It is fatal to enter any war without the will to win it."

"Old soldiers never die; they just fade away.

"The soldier, above all other people, prays for peace,

for he must suffer and be the deepest wounds and scars of war."


"May God have mercy upon my enemies, because I won't ."
"The object of war is not to die for your country but to make the other bastard die for his.

"Nobody ever defended anything successfully, there is only attack and attack and attack some more.

"Fixed fortifications are a monument to the stupidity of man."
"It is foolish and wrong to mourn the men who died.
Rather we should thank God that such men lived.


The Soldier stood and faced God
Which must always come to pass

He hoped his shoes were shining
Just as bright as his brass
"Step forward you Soldier,
How shall I deal with you?


Have you always turned the other cheek?


To My Church have you been true?"


"No, Lord, I guess I ain't


Because those of us who carry guns


Can't always be a saint."


I've had to work on Sundays

And at times my talk was tough,

And sometimes I've been violent,

Because the world is awfully rough.

But, I never took a penny

That wasn't mine to keep.

Though I worked a lot of overtime

When the bills got just too steep,


The Soldier squared his shoulders and said

And I never passed a cry for help

Though at times I shook with fear,

And sometimes, God forgive me,

I've wept unmanly tears.

I know I don't deserve a place

Among the people here.


They never wanted me around


Except to calm their fears.


If you've a place for me here,


Lord, It needn't be so grand,


I never expected or had too much,


But if you don't, I'll understand."


There was silence all around the throne

Where the saints had often trod

As the Soldier waited quietly,

For the judgment of his God.

"Step forward now, you Soldier,

You've borne your burden well.

Walk peacefully on Heaven's streets,

You've done your time in Hell."


Links
& Infor
xxxx
Glorious
Malaysian Food
xxx
&
Other Stuff
xxx
xxx
xxx
XXXX
xxxx
Advertistment
XXXXXXXX
Advertistment
Operation Jala Aman , the greatest blunder in the annals of the Malaysian Army where 11 soldiers died, Fratricide
Monday, February 03, 2020
Why were there 11 deaths during Operation Jala Aman in the Rajang Area Security Command in 1983? Was it fratricide, blue on blue caused by incompetent leadership? This operation was launched as information was received that there were a large number of Communist Terrorists about to move into that area. They deployed every available troops they could get their hands on. That included clerks, cooks, drivers, mechanics and etc etc in the cordon?
I think personally speaking the deaths were caused by incompetency and poor application of principles in the cordon and search. Plus the fact that all participating were Non Infantry in the cordon group. The "bright bulbs" had the cooks, clerks, mechanics pair up with the Infantry troops in small groups.
The Non Infantry had no real experience in night time combat and ambush, they were jittery, nervous and trigger happy. It was a tragedy waiting to happen. I guess in the dark where visibility was nil, they shot their friends who were with them when they heard noises. One shot was all it took for hell to break loose that night, they opened fire wildly, panicking that the enemy was amongst them. It happened at various locations within the cordon groups, only God knows how many were wounded.
The victims were 5 were from the Royal Malay Regiment, 4 from 24 RMR and 1 from 3 RMR, an Officer from the Armored Regiment and 4 from 8th Rangers and 1 (serial no.17 not from 8th Rangers) from the 4th Rangers. Corporal Noah ak Olih was the father of Warrant Officer 2 Breanau Noah of the Seventh Rangers. Apparently there are no records at the Infantry Directorate on this incident, why do you think??? I guess the records have been expunged. If you look into the history of the participating battalions in that operation, they will say the soldiers died due to enemy action. No enemy was killed, neither were they there. I guess there were 4 Generals involved in this fiasco.
Night combat is not going to end well when the cooks, clerks, drivers, mechanics and all the supporting elements are not trained for it. Using the Infantry to off set that short coming will only end with a high cost in lives.
Was anyone held accountable? I guess the Generals qualified for a pension and lived to a ripe old age, whilst our poor warriors who died in this tragedy are quietly forgotten? They were fathers, husbands and sons, who died needlessly
posted by Major D Swami (Retired) @ 6:53 PM

All the images of the Ambush where 15 soldiers of 7th Rangers were killed
Saturday, February 01, 2020
15 Soldiers of 7th Rangers ambushed and killed by the Enemy
The Enemy with captured weapons, all of them in the ground
Enemy location behind a tree trunk
The Bedford Truck hit with heavy enemy fire burnt
Typical congratulatory message of kills after follow up operations success
Ath the site of the ambush
Another angle
The fallen and the wounded
posted by Major D Swami (Retired) @ 11:37 AM

15 Soldiers of 7th Rangers ambushed and killed by the Enemy
Thursday, January 30, 2020
Security Forces early this .............See all the images here..............

One of the survivors of this ambush sells fish at the market where the UTC is located, in Ipoh. You can identify him, as he is the one with a missing finger. His name is Zainuddin, I dare not approach him as I can do nothing for him. Mindef conveniently forgets its wounded Veterans. Unlike pretenders who are given credit!
This is one of the greatest losses experienced by the unit. It was one sorry episode. An adminstrative move early in the morning, turning into a bloodbath. It comprised of 1X Landrover, 1 X 3 tonner of engineers who were attached to 7th Rangers. The Engineers had completed some construction work at Camp Biawak. They had to return to Kuching. There were another two trucks of 7th Rangers. Most of the 7th Rangers personnel comprised of administrative soldiers.
The order of movement was the Engineer's Landrover leading, the second being their truck, the third and fourth vehicle being the Ranger's trucks. The Enemy did not open fire on the lighter armed Engineers, they waited for the Ranger trucks to get into the killing area, once the trucks were inside the killing area the Enemy opened up with everything they had from prepared positions, the Rangers ( 20 soldiers) did not have a chance, those not killed outright were wounded, some badly. The Enemy force was 30-40 strong.
The Engineers who were less than a section strong (less than 10 men), made a wise decision by speeding off to a place called Titi Akar, where there was a troop of 1st Reconnaissance Regiment soldiers, to seek help. One very brave individual, who was a Corporal from that troop along with his driver dashed off at first, on his own in his Ferret scout car.
The name of the Ferret Scout Car Comd was Kpl Jamalludin from 1 Recce (for this infor thanks to Lt Col Ratnam). Soon to be followed by the rest of the troop. When the Enemy saw the approaching scout car speeding toward them with it's sole gun blazing, made a hasty withdrawal. He single handedly was responsible for saving the wounded who had put up a futile resistance, on the verge of being slaughtered. The enemy's priority at that time was to gather equipment and weapons. They took away almost all the weapons. With the arrival of that brave individual and his driver from the 1st Recce Regiment, the Enemy did not have the opportunity to finish/kill off the rest of the wounded soldiers.
The news reached Battalion Headquarters, announcements were made throughout bars, theatres and the town to regroup the rest of 7th Rangers. Massive follow up operations were conducted, to track down the enmy. In the ensuing engagements with the Enemy, many of the Enemy were killed and also captured and the weapons recovered.This was aided by other friendly forces (Other units). It took a very long time to hunt and kill the enemy. The last of the weapons recovered was in 1986, almost 14 years !
See the names of the fallen, the Enemy and the ambush position....
This ambush happened on the 26th March 1972 along the Biawak / Lundu road. The cutting on the right shows the follow up operation conducted after the ambush. The enemy fired from prepared locations.
* Note. I would appreciate it greatly if someone would help me correctly identify the Lance Corporal and his driver from the Recce Regt, the Troop and Squadron.
If there are any inaccuracies please contact me. The above incident was related to me by Lt Col Zulakpli Abdul Rahman, who was then a subaltern in 7

th

Rangers. The follow up which was successful was conducted by Captain Sabdin Ghani.
Brave Sabahans who fought the Reds. By: Sherell Ann Jeffrey
THE first batch of Sabahans who served in the Malaysian Armed Forces as part of the Sabah Ranger unit were also involved in tracking down communists, both along the Thai border and in Sarawak. In fact, Capt (rtd) Abdullah Yusof, who was 23 when he joined the Rangers in 1963, remembers it like it just happened yesterday.
Now in his 70s, Abdullah said he and two other Sabahan officers serving in the ranger regiment - Major Sabdin Ghani and Capt Boniface Jingulam - were ordered to hunt down the communists responsible for ambushing and killing 15 members of the Ranger Seven unit who were on their way back from Sik Guruh, known as Mong Gajah. All three were posted to the newly-formed Ranger Seven regiment based in Kluang Camp Johor. "It was in 1970 and the unlucky team was headed back to Sungai Petani when they were ambushed by communists. "Me and the other two Sabahan officers were assigned to track them down.
However, we were unsuccessful because the communists managed to escape across the Thailand border," he said. But luck was on their side on another occasion when the Ranger Seven unit was sent to Lundu Sarawak for operational duty and another 15 Malaysian soldiers were killed - also in an ambush. This was in early 1972. "We suffered the worst casualties when some 30 communists ambushed our convoy comprising office clerks and food transporters on the way back from sending supplies to our post in Biawak, Indonesia.
The regiment lost 15 men and several were seriously wounded. We also lost weapons, and radio set. It was the first time the Malaysian Armed Forces lost a radio set this way. He said the next day, they were assigned to track down the communists but three weeks passed without any results. Abdullah said tracking down communists can be complicated because they sometimes disguised themselves as rangers in order to hoodwink the people.
"When they enter the villages for food supplies, the villagers couldn't tell if they were communists or rangers because of the uniform. "The problem was made worse by the fact that both the rangers and the communists had various ethnic races as members like Iban and Chinese. "Three weeks after the ambush, the regiment received information that a group of communists will move at night from Kg Perian to the main road towards Kg Bokak. At 11pm the commanding officer assigned us to track and ambush the terrorists.
There were 20 of us. "At midnight, we managed to ambush the communists killing two terrorists during the attack. We also managed to retrieve the radio set and several weapons." Because of this, Abdullah was awarded the "Honorary Ahli Bintang Sarawak" by the Sarawak Government. We also managed to kill two communists in Lundu District," he said. Abdullah said life as a ranger was really challenging yet enjoyable. Sometimes they are required to sleep in the jungle for weeks, sometimes for a month.
"We have permanent base camps built along the border. These are equipped with all the necessary facilitiesÉwe even had a volley ball court. "Its only when we stay in the jungle that we need to ration our food. What we usually ate was baked beans from the tin, chicken or lamb curry. But in those days, canned food was really heavy. One pack for five days in the jungle could weigh up to five kilos. "We will be assigned to go to a certain spot to get new food supply, which will be sent by helicopter. We usually carry food supplies enough for a week" he said.
Another danger they had to contend with were traps laid by the communists in the jungle. He said the use of hidden traps was common during those days. These usually comprised empty tins filled with explosives, which could explode as far as 200 feet. "The traps are commonly set near big trees because it is human nature to instinctively hide behind big trees when attacked." Abdullah said the departing colonial administration formed two battalion ranger regiments called Sarawak Ranger One (Sarawak 1st Ranger) and Sabah Ranger Two (Sabah 2nd Ranger) in conjunction with the formation of Malaysia in 1963.
It was in August that year, barely a month before the formation of the new Federation comprising Sabah, Sarawak, Singapore and Malaya. The British decided to form a ranger regiment for both these States comprising some 600 native recruits. The officer in charge of recruiting the Sabahans was Major Plain and staff of the British army. Major Plain and his staff went all over Sabah and managed to enlist 120 young Sabahans for the first intake which had all races, including a few Chinese.
The 2nd Ranger battalion was formally set up at Ulu Tiram camp in Johor and most of the senior officers were drawn from the British army and Royal Malaysian Regiment. He said both the Ranger battalions were commanded by Col Welsted while the Commanding Officer for the 2nd Rangers was Lt Col Wood MC. The group then moved to the Gurkha training centre at Sungai Petani. In 1965, at the time of Singapore's separation from the new-formed Federation. The British government handed both Sarawak One and Sabah Two Rangers to Malaysia and some 160 Sabahan youths that choose to enrol in the Malaysian Armed Forces came to take the Oath of Allegiance to the nation.
It was then that the Sabah Ranger Two was renamed Ranger Seven. The first Sabahan officer commissioned was Maj (B) Sabdin Ghani in 1964, followed in 1965 by Lt Col Chin Kee Fong @ Johan Chin, Abdullah Hj Yusof, Kapt (B) Terence Sthalman, Kapt (B) Boniface Jingulam and Kapt (B) George Lai from Tuaran. Before joining the Rangers, Abdullah was telephone operator based in Queen Elizabeth Hospital and later was posted to work as a telephone technician in Karamunsing in 1961.
"When I heard of the recruiting exercise in 1963, I immediately resigned from my job and joined. We were offered a salary of RM60 a month at that time. "All our essentials were provided for by the Navy, Army Airforce Institution (NAAFI) including shoes, clothes, food, even the cigarettes were given free once a week. The salary I got was usually spent on things like bread." Abdullah, who served as a ranger for 14 years, said among the first Sabahan soldiers to be killed directly or indirectly due to conflict was Ranger Mohd from Tuaran, who was killed by mortar bomb in Kg Mentadak, Pulau Sebatik.
He said the first Sabahan non-conflict casualty was Ranger Albert Matanjang from Penampang who drowned during a river crossing exercise at Sg Jenang Kedah in 1964. He said many Sabahans joined the rangers in 1963 but his batch comprised the first Sabahans to join the Malaysian Armed Forces. "But, sadly, a majority of us who served in those days did not receive any form of recognition from the State Government until today. "I hope the State government would do a survey on those who served the country in the 60s.
We have an Ex-Servicemen Association of Malaysia but most of them are not the original members from the 60s," he said, adding they plan to celebrate the 50th anniversary in conjunction with the formation of the Rangers in Malaysia. Charlie Kwan now also in his 70s and another former Ranger, joined the force in 1963 when he was 22. "At that time it was the Indonesian confrontation.
I was looking for a job and thought I might as well join the army and fight to defend my country," Kwan said. "I became a rifle man in 1965 but in 1966 I was assigned to work in the headquarters because I could speak and write English well. My job was to manage the salary. Those days, salary was paid by cash and we will go around to the operation sites in trucks to distribute the money," he said.
From the Daily Express, plagiarized for the purpose of History, my sincerest apologies to the Daily Express, just could not resist for the sake of History had to remember the 15 fallen warriors, thank you Sherell Ann Jeffrey.
posted by Major D Swami (Retired) @ 7:32 PM

Roll of Honour........... 7th Rangers ( Mech )
Wednesday, January 29, 2020
The unit experienced death and wounded throughout the war against the Communists
1.

Rgr Rabu bin Abd Kadir
Location : Kulim, Kedah
Date : 19 Sep 1971
Incident : Accidental death ( Killed by own forces)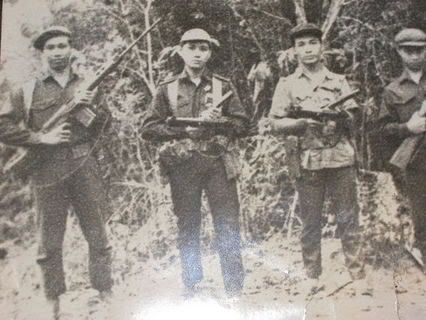 The Enemy with captured 7th Ranger Weapons after the ambush, all weapons were recovered. All the Enemy who were posing with arrogance in this picture were later killed by 7th Rangers.


2.

15567 Sgt Basha bin Sulaiman


3.

18092 Cpl Mohd Akhir bin Abd Rahman
4. 206925 Cpl Salleh bin Embong


5.

15967 LCpl Yusuf bin Ayub


6.

931188 Rgr Ramli bin Rejab


7.

928923 Rgr Haris bin Sekar


8.

930465 Rgr Mohamad bin Nayan


9.

928223 Rgr Abd Razak bin Deraman
10. 925552 Rgr Salmi bin Ismail


11.

22904 Rgr Abd Talib bin Sin


12.

928632 Rgr Wan Hassan bin Ideris


13.

14071 Rgr Zainal bin Mohd Noor


14.

931182 Rgr Hamid bin Yatim


15.

228350 Rgr Mohd Saad bin Ahmad


16.

925353 Rgr Ongging bin Jawi



Location : Biawak/Lundu Road




Date : 26th March 1972



One of the prepared enemy position.
Incident : 15 Soldiers killed. Ambushed on route from Biawak to Lundu. Only 3 survivors who were wounded.
The soldiers were on a vehicle, the enemy were in well prepared positions, behind huge timber logs, some positions were dug under the timber logs. Single biggest casualty for 7 Rangers.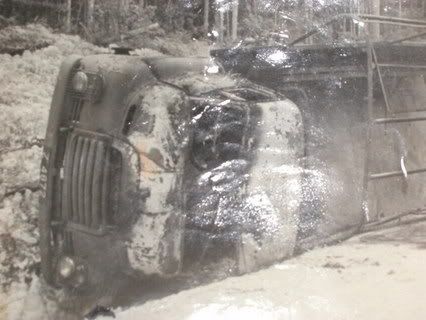 The truck is a Bedford Truck, it was completely destroyed, most of the casualties were from this truck. It was one of the vehicles on the road.



17.

15898 Cpl Ahmad bin Medo
18. 933295 Rgr Zakaria bin Abd Rahman


19.

930373 Rgr Ideris bin Ismail
20. 932970 Rgr Hassan bin Ahmad


21.

930209 Rgr Mohd Kamal bin Din


22.

932422 Rgr Dumbon ak Chek

Location : Gubir/ Mong Gajah, Perak
Date : 7th April 1975

Incident : This was a vehicle ambush along a winding hilly area. Ambush positions were prepared by the enemy. Six soldiers fell in this ambush, which was during Ops Sedar.



23.

2Lt Jagathisan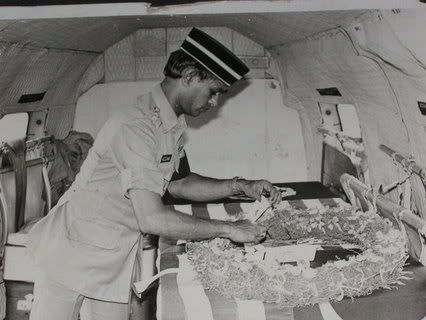 Lt Jagathisan's casket drapped in a Malaysian Flag being prepared on board an aircraft to be flown back to Peninsular Malaysia.

Location : Kanowit, Sarawak
Date : 20 Sep 1977

Incident : On riverine operations drowned in the Kanowit river.



24.

455666 Rgr Yazid bin Zakaria

Location : Malaysian/Thai border
Date : 22 Jan 1977

Incident : During Operation Daoyai Musnah stepped on a booby trap and was killed on the spot.



A typical congratulatory message on confirmed kills.

Other Soldiers Wounded In Action


1.

15736 Rgr Abdul Hamid bin Mohd Saad


2.

930474 Rgr Shahar bin Yahaya
3. 452752 Rgr Alimin bin Ibrahim


4.

928126 Rgr Zainuddin bin Ahmad

Location : Biawak/Lundu Sarawak
Date : 26th March 1972
Incident : Involved in the ambush where 15 soldiers were killed.



5.

Lt Tong Lye Heng
Location : Jungles of perak
Date : 10 June 1971
Incident : During Ops Kota was shot by the Enemy


6.

928977 Sgt Wan Ahmad bin Abu Bakar
Location : Sg. Siput, Perak
Date : 30 April 1973
Incident : During operations stepped on a booby trap.



7.

925955 LCpl Ismail bin Jaafar
Location : Sungei Siput, Perak
Date : 16 Oct 1973
Incident : Whilst on operations stepped on a booby trap.



8.

925953 Rgr Yahya bin Man
Location : Weng, Kedah
Date : 10 april 1975
Incident : Whilst on operations stepped on a booby trap.



9.

1014139 Rgr Anchu ak Ang Kamar and

10.

930329 Cpl Saad bin Mat
Location : Gubir, Kedah
Incident : One of them stepped on a booby trap during Operation Sedar. Both were wounded in their legs.



11.

933623 Rgr Nik Ya bin Noor
Location : Gubir, Kedah
Date : 21 June 1978
Incident : Whilst on Operation Sedar stepped on a booby trap, injuring his left leg severely.



12.

551856 Rgr Hamid bin Kecil
Location : Ipoh, Perak
Date : 21 Sep 1978
Incident : Whilst on Operation Setia 11 stepped on a booby trap.



13.

928266 Sgt Hussin bin Yaakob
Location : Malaysian/Thai border
Date : 26th July 1979
Incident : Whilst Operation Selamat Sawadee, 794 Bravo, stepped on a booby trap, his right leg had to be amputated.



14.

933379 Rgr Razali bin Din and

15.

1010057 Rgr Jambi ak Suyung
Location : Malaysian/Thai border
Date : 27 July 1979
Incident : Whilst on Operation Selamat Sawadee, one of them stepped on a booby trap wounding them both.



16.

930380 Rgr Yusuf,

17.

32497 Rgr Ramlan and

18.

932332 Rgr Damsau
Location : Malaysian/Thai border
Date : 14th August 1979
Incident : One of them stepped on a booby trap during Operation Selamat Sawadee, wounding all three of them.



19.

551624 LCpl Hamid bin Hassan
Location : Malaysian/Thai border
Date : 22 August 1979
Incident : During Operation Selamat Sawadee stepped on a booby trap.



20.

19572 Cpl Buang bin Surip
Location : Malaysian/Thai border
Date : 27 August 1979
Incident : Stepped on a booby trap during Operation Selamat Sawadee
Cpl Buang Surip was known for his shootong skills, he was an excellent shot with a pistol and the Sterling sub-machine gun. He spent his days in the battalion coaching, soldiers on shooting. Also trained the wives who were memebrs of the wives club in shooting.

Note : Operation Selamat Sawadee was the single most operation that created the most amount of casualties for 7th Rangers.
posted by Major D Swami (Retired) @ 3:01 PM

History of 8th Rangers (Para) in the National Language
Monday, January 13, 2020
'AGI IDUP AGI NGELABAN' BE PROUD STAY AIRBORNE

SEJARAH PENUBUHAN BATALION
KE-8 REJIMEN RENJER DIRAJA PARA

PERIHAL PENUBUHAN ASAL

1. Latar Belakang Membawa Kepada Penubuhan Unit. Tujuan penubuhan adalah seimbang dengan dasar kerajaan untuk membesarkan Angkatan Tentera Darat khasnya. Pada masa itu juga kerajaan Negeri Sarawak berkehendakkan sebuah Batalion Infantri yang mana anggota-anggota terdiri daripada rakyat Sarawak sendiri. Kehendak itu tidak dapat dilaksanakan oleh Kementerian Pertahanan tetapi sebaliknya menubuhkan pasukan 8 Renjer dengan anggota-anggota campuran dari semua Pasukan Renjer pada masa itu.

2. Tarikh Penubuhan. Pasukan 8 Renjer telah ditubuhkan pada 1 Mac 1973. Seramai 500 rekrut rakyat Sarawak telah dipilih untuk mengikuti latihan yang intensif ditempatkan di Kem Terendak, Melaka sebagai pusat latihan. Latihan dimulakan pada 12 Mac 1973 hingga 4 Sep 1973 dijalankan selama 6 bulan. Semasa latihan anggota-anggota rekrut terdiri daripada anak-anak tempatan dan tiada sebarang masalah yang timbul. Upacara tamat latihan telah diadakan di Kem Terendak, Melaka dan tabik hormat telah diambil oleh DYMM Raja Perlis Tuan Syed Putra Ibni Almarhum Syad Hassan Jamalullail pada 4 Sep 1973. Dengan tamatnya latihan asas rekrut itu maka pusat latihan 8 Renjer telah dibubarkan. Pasukan telah diistiharkan sebagai Batalion Ke-8 Rejimen Renjer Malaysia dan Lt Kol Mokhtar bin Ismail sebagai Pegawai Memerintah yang pertama memerintah Batalion 8 Renjer Malaysia. Pada 1 Jan 1987, mulai dari tarikh tersebut batalion lebih dikenali sebagai Batalion Ke-8 Rejimen Renjer Diraja Para. Keanggotaannya adalah terdiri daripada anggota-anggota asal batalion ini dan juga anggota-anggota dari batalion-batalion Renjer yang lain secara sukarela.

3. Program pengubahsuaian dari batalion Infantri biasa kepada Batalion Infantri 'Parachute' (Payung Terjun) telah berjalan dengan lancar sehinggalah batalion ini menerima taraf operasinya sebagai Batalion Payung Terjun pada Julai 1990. Seterusnya pada 10 Okt 1994, batalion ini bersama-sama pasukan-pasukan lain di bawah naungan 10 Briged Para telah diistiharkan sebagai elemen darat Pasukan Aturgerak Cepat (PAC) dengan penyampaian Beret Maroon oleh YAB Perdana Menteri di Langkawi. Pasukan juga telah menerima Penganugerahan Panji-panji Rejimen yang dikurniakan oleh DYMM Raja Perlis Tuanku Syed Putra Ibni Almarhum Syad Hassan Jamalullail pada 29 Jun 1999 di Padang Kawad Pasukan.

4. Tempat Ditubuhkan. Kem Terendak, Melaka.

5. Kuasa Penubuhan.

a. Batalion Infantri Biasa. FED (M)/3000/6/72 (01 Mac 73).
b. Batalion Infantri Para. FED (M)/3000/10/90 (01 Mac 87).

6. Acara Perasmian Penubuhan. Acara perasmian penubuhan telah dilakukan pada 4 Sep 1973 di Kem Terendak, Melaka dimana Kol Yang Dipertua Kor Renjer Raja Perlis mengambil tabik hormat Upacara Tamat Latihan 500 rekrut tempatan Sarawak.

7. Kekuatan Pegawai Dan LLP. Seramai 19 Pegawai dan 500 anggota LLp.

NAMA-NAMA PEGAWAI MEMERINTAH SEMENJAK PASUKAN DITUBUHKAN

8. Nama-nama Pegawai Memerintah adalah seperti berikut:

a. Lt Kol Mokhtar bin Ismail - 4 Sep 1973 hingga 1 Jan 1974.

b. Lt Kol Raja Abd Rashid bin Raja Badiozaman - 2 Jan 1974 hingga 1 Jan 1976.

c. Lt Kol Sulaiman bin Hj Kudus - 2 Jan 1976 hingga 26 Dis 1977.

d. Lt Kol Khairuddin bin Sharin - 27 Dis 1977 hingga 8 Ogos 1978

e. Lt Kol C. A. Loone - 9 Ogos 1978 hingga 30 Jan 1980.

f. Lt Kol Wan Mohammad bin Ahmad - 1 Jul 1980 hingga 31 Dis 1981.

g. Lt Kol V. P. Nathan - 1 Jan 1982 hingga 31 Jan 1984.

h. Lt Kol Pak Wan Chik bin Hashim - 1 Feb 1984 hingga 31 Dis 1986.

i. Lt Kol Muhammad Afifi bin Hj Kassim - 1 Jan 1987 hingga 13 Ogos 1989.

j. Lt Kol Aziz bin Rashid - 14 Ogos 1989 hingga 12 Jan 1992.

k. Lt Kol Awie bin Suboh - 13 Jan 1992 hingga 30 Jun 1994.

l. Lt Kol John Derick @ Osman bin Abd Jalil - 1 Jul 1994 Hingga 30 Jun 1996.

m. Lt Kol Ranjit Singh Ramday - 1 Jul 1996 hingga 3 Dis 1999.

n. Lt Kol Toh Choon Siang - 4 Dis 1999 hingga 2 Jul 2002.

o. Lt Kol Shaari bin Baba - 3 Jul 2002 hingga Sekarang.


SARJAN MEJAR REJIMEN

9. Senarai Sarjan Mejar Rejimen adalah seperti berikut:

a. 2022247 PW I Mohd Yassin bin Kassim - 1 Mac 1973 hingga 14 Apr 1974.

b. 10476 PW I Abd Rahman bin Mohd Shariff - 15 Apr 1974 hingga 15 Okt 1976.

c. 2022342 PW I Mohd Yusof bin Ali - 16 Okt 1976 hingga 2 Jul 1980.

d. 925648 PW I Tahir bin Omar - 3 Jul 1980 hingga 17 Dis 1984.

e. 19516 PW I Aziz bin Kanchil - 18 Dis 1984 hingga 12 Mei 1992.

f. 1028988 PW I Izzaudin bin Abdullah - 13 Mei 1992 hingga 20 Dis 1993.

g. 1015418 PW I Ali bin Abd Hamid - 21 Dis 1993 hingga 31 Jul 1995.

h. 1025079 PW I Che Harun bin Hussein - 1 Ogos 1995 hingga 1 Dis 1999.

i. 1032312 PW I Zulkhairi bin Ayob - 1 Dis 1999 hingga 24 Jun 2000.

j. 1063912 PW I Mohd Ahyad bin Hj Ahmad - 24 Jun 2000 hingga 7 Jul 2002.

k. 532953 PW I Roslan bin Saad - 8 Jul 2002 hingga Sekarang.

LOKASI PENEMPATAN

10. Lokasi- lokasi penempatan pasukan adaqlah seperti berikut:

a. Kem Welington, Kem Terendak Melaka - 1 Mac 73 hingga okt 73
b. Kem Tasik Mas, Bau, Sarawak - Nov 73 hingga Jul 74.
c. Kem Wong Padong, Sri Aman, Sarawak - Jul 74 hingga Dis 74.
d. Kem Semanggo, Kuching Sarawak - Jan 75 hingga Dis 76.
e. Kem Syed Putra, Ipoh Perak - Jan 77 hingga Nov 81.
f. Kem Oya, Sibu, Sarawak - Dis 81 hingga 84.
g. Kem Wellington, Terendak, Melaka - Nov 84 hingga sekarang.

SENARAI PENERIMA PINGAT-PINGAT

11. Senarai pahlawan yang dianugerahkan pingat jasa keberanian adalah seperti berikut:

a. PINGAT SRI PAHWANAN (SP). 901738 PW II Kanang ak Langkau - 3 Jun 81
b. PINGAT PAHLAWAN GAGAH BERANI.

(1) 901738 PW I Kanang ak Langkau - 17 Jun 80.
(2) 931679 PW I Beliang ak Bali - 13 Jun 77.
(3) Mej (KM) Micheal Riman ak Bugat - 8 Jun 83.

c. KEPUJIAN PERUTUSAN KEBERANIAN (KPK)

(1) Mej Wong Sing Nang (200471) - 15 Sep 79.
(2) Kapt Othman bin Abd Hamid (453161) - 15 Sep 79.
(3) 932360 Kpl Jampong ak Daong - 15 Sep 79.
(4) 212657 Lkpl Arif bin Harun - 15 Sep 79.
(5) 909226 Lkpl Abang Bhli bin Abnag Boladi - 15 Sep 79.
(6) 203966 Sjn Abdullah bin Omar - 15 Sep 79.
(7) 931739 Lkpl Zaidi bin Masal - 15 Sep 79.
(8) 10111643 Lkpl Rajagopal al Subramaniam - 15 Sep 79.
(9) 931952 Rjr David Winnie ak Munyie - 15 Sep 79.
(10) 931570 Rjr Manggi ak Ganga - 15 Sep 79.

KEJAYAAN PASUKAN DI DALAM OPERASI

12. Semenjak dari bulan Nov 1973 kebanyakkan dari tugas operasi yang dijalankan oleh pasukan ini dalam Negeri Sarawak, sehinggalah pasukan ini berpindah ke Negeri Perak pada bulan Feb 1977, dimana pasukan ini telah dirugaskan untuk membuat gerakan operasi di sekitar Negeri Perak. Dalam jangkamasa 3 tahun di Sarawak, sejumlah 28 gerakan operasi telah dijalankan mulai bulan Nov 1973 hingga bulan Dis 1976. Jangkamasa gerakan pada tiap-tiap satu gerakan di antara masa satu minggu hingga ke 2 bulan. Kawasan operasi ini adalah tertumpu kepada kawasan Bahagian Pertama dan Bahagian Ketiga.

13. Semenjak pasukan ini berpindah ke Negeri Perak, sejumlah 48 operasi telah dilancarkan mulai Feb 1977 hingga Sep 1980. Jangka masa gerakan yang dilancarkan pada setiap satu gerakan adalah di antara 3 minggu hingga ke 2 bulan. Kawasan operasi adalah tertumpu kepada kawasan-kawasan Daerah Hulu Perak, Kinta dan Kuala Kangsar. Secara ringka penglibatan pasukan ini dalam beberapa gerakan operasi sejak dari awal penubuhannya adalah seperti berikut.

a. Operasi MOONSOON.

(1) Kawasan. Lundu, Sarawak.
(2) Tarikh. 30 Ogos 76 – 12 Dis 76.
(3) Kekuatan.(Termasuk Tumpangan): Batalion.
(4) Nama Ketua. Lt Kol Raja Abdul Rashid bin Raja Badiozaman.
(5) Kejayaan Yang Dicapai.1 PGK dibunuh – Lee Lip Pong.

b. Operasi TANDUK 4.

(1) Kawasan. Gopeng PERAK
(2) Tarikh. 24 Dis 77-23 Jan 78.
(3) Kekuatan. (Termasuk Tumpangan): Batalion.
(4) Nama Ketua. Lt Kol Raja Abdul Rashid bin Raja Radiozaman.
(5) Kejayaan. 1 PGK dibunuh.

c. Operasi SETIA 12.

(1) Kawasan.Keramat Pulai, Perak.
(2) Tarikh. 08 Jun 78-05 Jul 78
(3) Kekuatan. (Termasuk Tumpangan): Batalion.
(4) Nama Ketua. Lt Kol Khairudin bin Shaari.
(5) Kejayaan dicapai. 1 PGK dibunuh- Lip Foh
d. Operasi SETIA 20/78.

(1) Kawasan. Ulu Ringgat.
(2) Tarikh. 01 Dis 78-01 Jan 79.
(3) Kekuatan. (Termasuk Tumpangan): Batalion.
(4) Nama Ketua. Lt Kol Khairuddin bin Shaari.
(5) Kejayaan dicapai. 1 PGK dibunuh

e. Operasi SETIA.

(1) Kawasan. Keramat Pulai,Perak.
(2) Tarikh. 01 Mei 79-14 Jun 79.
(3) Kekuatan. (Termasuk Tumpangan): Batalion.
(4) Nama Ketua. Lt Kol Khairuddin bin Shaari.
(5) Kejayaan dicapai. 5 PGK dibunuh

f. Operasi SETIA 1/80.

(1) Kawasan. Chemor/Tanah Hitam,Perak
(2) Tarikh. 03 Jan 80 –31 Mac 80.
(3) Kekuatan. (Termasuk Tumpangan): Batalion.
(4) Nama Ketua. Lt Kol C.A Loorne.
(5) Kejayaan dicapai. 1 PGK dibunuh

g. Operasi GAWAI .

(1) Kawasan. Ulu Sg. Anap.
(2) Tarikh.16 Jun 81-30 Jun 81.
(3) Kekuatan.(Termasuk Tumpangan): Batalion.
(4) Nama Ketua. Lt Kol Wan Mohamad bin Ahmad
(5) Kejayaan dicapai. 1 PGK dibunuh

h. Operasi PELANDUK 1/99.

(1) Kawasan. Kawasan Negeri Sembilan seperti Bukit Pelanduk, Kg.Sawah, Kg. Jimah, Kg. Sg. Nipah, Kg. Chuah, Kg. India, Lukut Sektor A (Sepang), Kawasan Mambau dan Kuala Sawah.
(2) Tarikh. 19 Mac 99-20 Apr 99.
(3) Kekuatan. 4 + 211.
(4) Nama Ketua. Lt Kol Ranjit Singh Ramday, Mej Nagalingam al Karuppia, Lt Morgan al Krishnan dan Lt M Samzie ak Gusang.
(5) Kejayaan dicapai. Berjaya membasmi penyakit Japanese Encephalitis (JE) dan Nipah Virus (Hendra-Like) serta berjaya membunuh 643,829 Khinzir, 3785 Khinzir liar dan 845 Anjing liar.

i. Operasi PASIR 2/2001.

(1) Kawasan. Kem Kukusan, Tawau, Sabah.
(2) Tarikh. 17 Ogos 2001 sehingga 16 Okt 2001.
(3) Kekuatan. 5 Peg dan 130 LLP.
(4) Nama Ketua dan Penempatan. Kapt Sellimin bin Mappalappang (3005405) dan Penempatan di Kem 7 RAMD Kem Kukusan Tawau.
(5) Kejayaan dicapai. Pada 212100H Sep 2001, 5 x anggota Komp C yang telah diketuai oleh Kapt Sellimin bin Mapallapang (3005776) telah berjaya menahan sebuah Bot Tempel dan menangkap 4 awak-awak berbangsa Bajau Filipina dan barang-barang diantara P. Manaplik dan P. Gulisan. semasa membuat tinjauan di Pulau Mabul.

j. Operasi PASIR 1/2002.

(1) Kawasan. Kem Sri Wangsa, Semporna, Sabah.
(2) Tarikh. 7 Jul 2002 sehingga 23 Sep 2002.
(3) Kekuatan. 5 Peg dan 133 LLP.
(4) Nama Ketua dan Penempatan. Kapt Nurolhisyam bin Shuib (3005405) dan Penempatan di Kem 7 RAMD Kem Kukusan Tawau.
(5) Kejayaan dicapai.

(a) Pada 22 Jul 2002 jam 2230 di perairan Pulau Meiga dan Pulau Tatangan, Semporna telah berjaya menahan "Pump Boat" bersama pemandu, Abdul Sada bin Sidek. KTJ Semporna.

(b) Pada 26 Jul 2002 jam 2330, Penahan PTI seramai 13 orang (3 lelaki dewasa, 6 perempuan dewasa dan 6 kanak-kanak) dan barang-barang seludup di perairan Batu-batu, Sahabat (PP 9957). Gerakan bersama Sub unit Pl 5 dan Bateri C, 6 RAD. KTJ Lahad Datu.

(c) Pada 13 Ogos 2002 jam 1250, Penahanan "Pump Bot" bersama pemandu, Indalsatti bin Tanjung (KP: 540205-12-5367) dan Thilong bin Kimda (SB: 098276) di peraian Tg Sirongol, Pulau Timbun Mata, Semporna. KTJ Semporna.

(d) Pada 21 Ogos 2002 jam 0515, di perairan Pulau Tabawan dan Bakapit, penahanan sebuah bot laju bersama 4 orang penyeludup (seorang cedera) dan wang tunai berjumlah RM 13,000.00 (Dalam bentuk matawang asing), dipercayai untuk membeli rokok-rokok di Pulau Bangga Filipina untuk diseludup ke Lahad Datu. Gerakan oleh Pl 5, B Komp(QRF). KTJ Lahad Datu.

(e) Pada 21 Ogos 2002 jam 0725 di Pulau Nunuyan iaitu penahanan bot dan 2 PTI (Hussin bin Dagam dan Dimbak bin Dagam – kedua dua berbangsa Bajau Filipina. Gerakan bersama 20 RAMD dan Pl 6, Komp B QRF. KTJ Sandakan.

(f) Pada 19 Sep 2002 jam 0230 di Tanjung Aru dan Pulau Berhala penanahan 5 PTI berbangsa Filipina dan barang-barang seludup iaitu rokok cannon 3 Ktn, rokok Memphis 11 ktn dan rokok Pentagon 3 ktn. Gerakan oleh Pl 6, Komp B (QRF). KTJ Sandakan.

(g) Pada 19 Sep 2002 jam 0400 di Pulau Nunuyan iaitu penahanan 24 PTI, 19 lelaki, 3 wanita dan 2 kanak-kanak kesemuanya berbangsa Filipina dan barang seludup iaitu rook Astro 450 ktn, rook Cannon 50 ktn dan Pedang Samurai 3 bilah. Gerakan oleh Pl 6, Komp B (QRF). KTJ Sandankan.

LATIHAN

14. Latihan yang dilaksanakan oleh pasukan adalah seperti berikut:

a. Eksesais KANOPI KENYALANG 24/2001.

(1) Kawasan . ZG PEKOTI, Muadzam Shah Pahang
(2) Tarikh . 25 Mac 2001 – 29 Mac 2001
(3) Kekuatan . Batalion
(4) Ketua dan Penenpatan. Lt Kol Ranjit Singh Ramday.

b. Eksesais SUMAN WARRIOR (CPX) 01/2001.

(1) Kawasan. Brisbane, Australia.
(2) Tarikh. 13 Okt 2001 sehingga 27 Okt 2001.
(3) Kekuatan. 25 + 29 anggota.
(4) Ketua dan Penenpatan. Lt Kol Toh Choon Siang.

c. Latihan Penerjunan Statik/Reunion Jump/Para Challenge.

(1) Kawasan. DZ NENAS, Simpang Renggam, Johor.
(2) Tarikh.. 29 – 30 Jan 2002.
(3) Kekuatan. 7 x Peg dan 60 x LLP.

d. Eksesais KANOPI KENYALANG Siri 26/2002.

(1) Kawasan. ZG NENAS (Simpang Renggam – Batu Pahat) Johor.
(2) Tarikh.. 24 Mac 2002 sehingga 01 April 2002.
(3) Kekuatan. 23 x Peg dan 427 x LLP. Batalion
(4) Ketua dan Penenpatan. Lt Kol Toh Choon Siang.

e. Latihan Lanjutan Penerjunan Statik.

(1) Kawasan. ZG NENAS, Simpang Renggam, Johor.
(2) Tarikh. 22 – 23 Mei 2002.
(3) Kekuatan. 1 x Peg dan 50 x LLP.
(4) Ketua dan Penenpatan. Lt Kol Toh Choon Siang.


f. Eksesais WIRA EAGLE Bersama 'United States Marined Corp (USMC).

(1) Kawasan. Sungai Lembing, Pahang.
(2) Tarikh.. 21 – 28 Jun 2002.
(3) Kekuatan. 7 + 120 anggota.
(4) Ketua dan Penenpatan. Lt Kol Toh Choon Siang.

g. Latihan Penerjunan Statik Sempena Eksesais HELANG TUAH (Pasukan Merah).

(1) Kawasan. ZG NENAS
(2) Tarikh.. 26 Jul 2002
(3) Kekuatan. 5 + 45 anggota.

h. Latihan Penerjunan Lanjutan 'Reunion Jump'.

(1) Kawasan. ZG NENAS
(2) Tarikh.. 5 Okt 2002
(3) Kekuatan. 5 + 25 anggota.

i. Latihan Penerjunan Lanjutan Sempena Menonton Tim UKHMK 10 Bgd Para

(1) Kawasan. ZG NANGKA, Kelantan.
(2) Tarikh.. 5 Sep 2002
(3) Kekuatan. 5 + 25 anggota.

j. Latihan Penerjunan Bebas Sempena HUT 10 Bgd Para

(1) Kawasan. Padang Bola 8 RRD Para
(2) Tarikh.. 10 Okt 2002
(3) Kekuatan. 5 x anggota.

k.. Latihan Penerjunan Statik Eksesais PAHLAWAN 11/2002 sebagai Komp 'Leading Para Battle Group (LPBG)' membantu 17 RAMD Para

(1) Kawasan. ZG NANGKA, Kelantan
(2) Tarikh.. 25 Okt 2002.
(3) Kekuatan. 5 + 132 (Komp D).
(4) Nama Ketua dan Penempatan. (Kapt M. Hajazi bin Kamis (3007560).

l. Eksesais PAHLAWAN 11/2002 Sebagai Komp 'Airmobile'.

(1) Kawasan. Kuantan, Pahang
(2) Tarikh.. 14 - 25 Okt 2002
(3) Kekuatan. 5 + 135 (Komp A).
(4) Nama Ketua dan Penempatan. Kapt Nurolhisyam bin Shuib (3005405) di TUDM Kuantan, Pahang.


m. Eksesais KANOPI KENYALANG Siri 27/2003

(1) Kawasan. ZG NANGKA,Tanah Merah, Kelantan dan Setiu Trengganu.
(2) Tarikh.. 28 Apr - 02 Mei 2003
(3) Kekuatan. Batalion.
(4) Nama Ketua dan Penempatan. Lt Kol Shaari bin Baba.


KEJAYAAN DI DALAM SUKAN DAN PERTANDINGAN

15. Larian Jelajah Malaysia 1989. Pada 03 Sep hingga 16 Sep 89, 8 RRD Para telah melaksanakan Larian Jelajah Malaysia melalui 16 fasa sejauh 2,335 km. Seramai 63 pegawai dan LLP dari 8 RRD Para dan seorang pegawai Australia telah mengambil bahagian. Acara pembukaan telah dilaksanakan oleh Panglima 3 Div di Markas 3 Div pada 3 Sep 1989. Manakala, penutup larian telah dilaksanakan oleh Panglima Tentera Darat di Stadium Angkatan Tentera pada 16 Sep 1989.Senarai pegawai dan LLP adalah seperti berikut:

a. Mej Steel Duncan Brown (47708) –3 Royal Australian Regiment Para (Australia).
b. Kapt Nagalingan al Karuppia (3002471)
c. Kapt Ivan Lee Synn Leng (3002649)
d. Kapt Ravindran al Karuppiah ( )
e. Kapt Norman bin Mansor ( )
f. Kapt Bhawanin al Jogologon (3000876)
g. Kapt Che Roslan bin Yahya (3002870)
h. Kapt Tai Kim Chiang (3002835)
i. Lt Rosle bin Mohd Salleh (3002602)
j. Lt Rusman bin Sanip (3003463)
k. 19516 PW I Aziz bin Kanchil
l. 932113 PW II Wan Razali bin Wan Deraman
m. 211882 Sjn Sabri bin Harun
n. 1010022 Sjn Angkol ak Manggang
o. 213485 Sjn Mat Nasir bin Mat Jidin
p. 1021393 Sjn Segar al Govindasamy - Sekarang Mej (KM)
q. 1037841 Kpl Mat Nasir bin Salleh – Sekarang Kapt.
r. 1025116 Kpl Roslim bin Abd Hamid
s. 1032789 Kpl Mohd Noh bin Hj Daud
t. 1016422 Kpl Palanivelo al Arumugam
u. 1014130 Kpl Naing ak Lanjes
v. 1017391 Kpl Amn bin Md Zain
w. 1020084 Kpl Jetty ak Beji
x. 1019311 Kpl Kamaron bin Sulong
y. 1015249 Kpl Ismail bin Khalid
z. 1024599 Lkpl Zahir bin Mohamad
aa. 1050946 Lkpl Jamin @ Bakar ak Sidom
bb. 1050913 Lkpl Enal ak Tol
cc. 1022945 Lkpl Ibrahim bin Mahmud
dd. 1032316 Lkpl Zazali bin Mohd Said
ee. 1032312 Lkpl Zulkhairi bin Ayub
ff. 1036034 Lkpl Mitip ak Panjang
gg. 1055442 Lkpl Arumugam al Munian
hh. 1050926 Lkpl Inggu bin Jaraw
ii. 1032303 Rjr Susainathan al Saminathan
jj. 10510008 Rjr Sabli bin Paie
kk. 1042354 Rjr Farizi bin Mohamad
ll. 1066580 Rjr Tajuddin bin Mohamed Nor
mm. 1033730 Rjr Morgan al Krishnan – Sekarang Kapt.
nn. 1034747 Rjr Jamaluddin bin Md Dah
oo. 1050912 Rjr Encham ak Liang
pp. 1059687 Rjr Raymond al A.H.D Cruz
qq. 1034766 Rjr Mohd Siam bin Pardi
rr. 1040094 Rjr Jamian bin Jangin
ss. 1050908 Rjr Cosman ak Gregory
tt. 1048035 Rjr Kumaran al Madhavan
uu. 1065147 Rjr Stephen ak James
vv. 1068544 Rjr Jafri bin Hamzah
ww. 1055254 Rjr Chellimuthu al Vellai
xx. 1050893 Rjr Bandar ak Sawon
yy. 1035814 Rjr Zulkfli bin Othman
zz. 1063884 Rjr Arshad bin Ismail
aaa. 1036321 Rjr Sahar @ Unos bin Maidin
bbb. 1040544 Rjr Manggang ak Bunsi
ccc. 1053711 Rjr Ariff bin Abd Rahman
ddd. 1064684 Rjr Affendi bin Ibrahim
eee. 1021395 Rjr Suntharsecran al Munusamy
fff. 1050935 Rjr Jemat ak Ngumbang
ggg. 1051004 Rjr Seli ak Tinggi
hhh. 1065749 Rjr Halim bin Hasan

SUKAN DAN PERTANDINGAN

16. Pasukan ini telah mencapai beberapa kejayaan di dalam sukan peringkat briged , kor dan Tentera Darat. Kejayaan-kejayaan pasukan adalah seperti berikut:

a. Tahun 2001.

(1) Menembak peringkat 10 Bgd Para - Johan
(2) Bola Keranjang Kor RRD - Naib Johan
(3) Ragbi Kor RRD - Naib Johan
(4) Bola sepak 10 Bgd Para - Naib Johan
(5) Baola Tampar - Johan

b. Tahun 2002.

(1) Para Challenge 10 Bgd Para - Johan
(2) Ragbi Kor RRD - Johan
(3) Pertandingan SMD - Johan
(4) Tambor dan Serunai 10 Bgd Para - Naib Johan
(5) Bola Keranjang Kor RRD - Naib Johan
(6) Pertandingan UKMHK 10 Bgd Para - Johan
(7) UKMHK TD - Johan
(8) Menembak UKM 10 Bgd Para - Johan
(9) UKM 10 Bgd Para - Johan

c. Tahun 2003.

(1) Tinju 10 Bgd Para - Ketiga
(2) Para Chanllenge 10 Bgd Para - Johan
(3) SMD 10 Bgd Para - Naib Johan


KAMPUNG IKHTIAR PASUKAN

17. Kampung Ikhtiar Hidup ini telah dibina pada awal Februari 1994. Seramai 15 anggota pasukan ini telah terbabit dalam projek pembinaan kampung ini. Kawasan ini mempunyai keluasan 200 meter keliling dengan keadaan asalnya. Kampung Ikhtiar Hidup ini ditadbirkan oleh anggota pasukan ini sendiri iaitu seramai 8 anggota. Mereka adalah anggota yang terlatih dan mahir khususnya dalam aspek ikhtiar hidup atau survival.

OBJEKTIF

18. Kampung Ikhtiar Hidup ini didirikan untuk mencapai objektif-objektif berikut:

a. Melatih serta memberi pendedahan khususnya kepada anggota baru mengenai kepentingan segala aspek berkenaan ikhtiar hidup seterusnya pengetahuan tersebut dapat dipraktikkan ketika dalam kecemasan ataupun ketika perlu.

b. Untuk menentukan segala kemahiran dan pengalaman dari mereka yang pakar dapat diperturunkan kepada generasi baru agar ia tidak hilang atau luput oleh peredaran zaman.

c. Melengkapkan anggota pasukan ini sebagai anggota yang terlatih segala aspek selaras dengan tugas dan peranan yang dimainkan.

KANDUNGAN

1. SEJARAH PENUBUHAN PASUKAN
2. PEGAWAI MEMERINTAH SEMENJAK PASUKAN DITUBUHKAN
3. SARJAN MEJAR REJIMEN
4. KEJAYAAN OPERASI PASUKAN
5. SENARAI PENERIMA PINGAT-PINGAT
6. KEJAYAAN PASUKAN DI DALAM OPERASI

7. LATIHAN

8. KEJAYAAN DI DALAM SUKAN DAN PERTANDINGAN

9. LAWATAN

10. KAMPUNG IKHTIAR PASUKAN
posted by Major D Swami (Retired) @ 5:09 AM

Chin Peng's ashes and 'Heil Hitler!' salutes by Kua Kia Soong
Thursday, November 28, 2019
Cessation of Hostilities(Click on image to read the fine print)
Malaysiakini :

LETTER

| One would have thought that the return of Chin Peng's ashes to his homeland would have led to a sigh of relief that there is finally closure to our turbulent anti-colonial history and perhaps some reflection leading to reconciliation for all who have suffered tragically during the "troubles".
Instead, Bukit Aman CID director Huzir Mohamed has said that the police are investigating the group who had reportedly brought in the remains of former Communist Party of Malaya (CPM) secretary-general Chin Peng from Thailand to Malaysia. So, it looks as though Chin Peng's ashes are being treated like contraband drugs, the possession of which could make the possessors liable to terrifying penalties!
While this recent "storm in an urn" has been going on in West Malaysia, we read another report that a graduating student at the convocation ceremony of Universiti Malaysia Sabah (UMS), had given a "Heil Hitler" salute during the ceremony. Despite such a blatant salute to fascism, it appears that this student received none of the reprimands accorded the Universiti of Malaya graduate who had carried a placard calling for the vice-chancellor to resign for racism. The graduate at UMS, known only as "Ibn Ruru" justified the salute by claiming solidarity with the plight of the Palestinians against the Israeli establishment, and venting his anger towards the Jewish people.



It is interesting that these two news items should appear in the same week given that Chin Peng was centrally involved with the anti-fascist and anti-colonial struggles that led to our independence in 1957. Did we not fight the Japanese fascists who were in the Axis with Hitler's Germany? One wonders what Malaysian students are taught today in schools and universities about fascism, Nazism and World War II that cost so many lives and resources. Who among our past leaders can we say sacrificed more in the struggle against Japanese fascism and British colonialism?





Today, we have forgiven the Japanese and our prime minister is the main proponent of the "Look East Policy". The leaders of post-colonial Malaysia never had any problems with the British anyway - independence was handed to the Alliance on a plate even though the British colonial power had sapped our workers and resources dry by then. Forgiveness is indeed taught in all religions but our nation's leaders maintain that Chin Peng and the CPM cannot be forgiven for their past actions during the Emergency. It is clear, however, that these leaders are certainly capable of selective forgiveness. Let us put all this into perspective.
During the 12-year Emergency when the CPM was waging a war against British colonialism, a total of 3,945 security forces, 2,473 civilians and 6,697 insurgents were killed. Because of this record, it is argued, Chin Peng and the CPM he led cannot be forgiven. Now, how does this compare with the casualties of the Japanese occupation?





During the Japanese Occupation of Malaya, more than 100,000 Malayans (mainly Chinese) were killed in the three years between 1942 and 1945. The Japanese killed 5000 Chinese in an operation called "Sook Qing" in just one month in February 1942 in Singapore. During the three years of occupation, 66,000 people were killed in Singapore.





The atrocities committed in the name of Japanese fascism during the Occupation left an indelible mark on those Malayans who suffered the terror of those dark years. And yet we are, quite rightly, prepared to forgive and reconcile with the Japanese even though their authorities have not formally recanted for their fascist and imperialist actions as the Germans have.
Do our history books extol the patriotic role of Chin Peng and the CPM during the struggle against Japanese expansionist aggression during World War II? The CPM-organised Malayan Peoples' Anti-Japanese Army was decorated by the British queen in London after the war, but their contributions have not been acknowledged in our own country. How's that? And how do our school textbooks portray this part of our history? All over the world, the progressive democratic alliances were the true patriots who fought against German and Japanese fascism during World War II. Can we name any of our independence leaders who distinguished themselves during that effort to liberate our country from Japanese occupation?





Our nation's leaders say that the CPM's insurrection against British colonialism was wrong but what alternative strategy did the Alliance have to liberate the country from colonial exploitation? Do they believe that independence could have been won without the insurrection against British colonial power?





My research at the British archives shows that the Malayan Emergency was essential for securing western economic, political and military-strategic interests. With this aim in mind, it was the British High Commissioner who had initiated an "Alliance" formula between the Malay aristocracy and non-Malay capitalist interests which led to the post-colonial status quo.





The colonial strategy against the CPM and the workers' movement can be seen in the fact that the Emergency was declared by the British colonial power in June 1948, while the CPM only launched their armed struggle in December 1948. Against 10,000 Malayan National Liberation Army regulars, the colonial power arraigned 40,000 British Commonwealth troops; 70,000 armed police; 300,000 Home guards, "including aircraft, artillery and naval support…perhaps the largest armed force in proportion to population ever used in a colonial war."





Anthony Short (UM lecturer, later Aberdeen University) was commissioned to write the official history of the Emergency but his work was rejected by the Malayan Government. Why?



Bukit Kepong was screened by the BN government at every election before 2018, but where is Mat Indera in the film when he was the Malay CPM leader who led the assault on the police station at Bukit Kepong? This telling fact was exposed by none other than the present Defence Minister Mohamad Sabu when he was in the opposition previously.



The rest, as they say, is history. The task for us reflective Malaysians is to painstakingly record the contributions of all true, progressive Malaysians who have contributed to our blessed homeland. Let Chin Peng rest in peace while we continue our struggle against racism and fascism in the world today. As the British Poet Laureate John Betjeman put it so wittily:
"History must not be written with bias,
Both sides should be given,
Even if there is only one side…"
posted by Major D Swami (Retired) @ 5:45 PM

SEJARAH SARAWAK RANGERS (1862 – 1963 )
Wednesday, July 10, 2019
Sir Gerald Templar


Pesuruhjaya British di Malaya iaitu Sir Gerald Templer pernah menggelar pasukan Sarawak Ranger sebagai Pasukan Terbaik Di Dunia dan untuk mana-mana pasukan tentera yang pernah berkhidmat sewaktu zaman darurat di Persekutuan Tanah Melayu suatu waktu dahulu memanggil mereka "The Sarawak Headhunter". Ketika Presiden Sukarno, presiden Indonesia suatu ketika dahulu pernah berkata di dalam satu ucapannya " Tentera Iban ini datangnya tidak diundang, saat pergi semua bala tenteraku hilang nyawa. Ramai yang bercerai dari badan dan kepala. Mereka sungguh pantas hinggakan tidak terlihat oleh mata manusia".

Inilah antara kata-kata yang pernah merujuk kepada Sarawak Rangers iaitu satu pasukan separa tentera yang begitu gah dengan kepakaran mereka menjejaki musuh serta keberanian mereka yang tiada tolok bandingnya sehinggakan Sarawak Rangers dulu, kini dan selamanya tetap menjadi kebanggaan Bangsa Sarawak. Pasukan yang terkenal dengan moto "Agik Idup Agik Ngelaban" inilah yang akan menjadi artikel informasi sejarah untuk pembaca Borneo Oracle sekalian yang diberikan tajuk Sejarah Sarawak Ranger (1862-1963). Sarawak Rangers merupakan satu pasukan separa tentera yang telah dibentuk oleh Rajah Charles Brooke iaitu Rajah kedua Negara Sarawak pada Oktober 1862. Pada awal penubuhannya pasukan separa tentera ini telah dianggotai oleh anak tempatan Sarawak berbangsa Iban seramai 32 orang. Mereka telah dipilih hasil daripada pemuafakatan Rajah Charles Brooke dengan tuai-tuai rumah etnik Iban yang menyokong kepimpinan keluarga Dinasti Brooke di Negara Sarawak pada

ketika itu.
Pemilihan 32 orang ini bukanlah hanya sekadar tangkap muat tetapi etnik Iban 32 orang ini merupakan antara pahlawan etnik Iban yang gagah perkasa serta terkenal dengan selok belok berperang yang mewakili kawasan masing-masing. Jadi apabila ada diantara pahlawan Iban yang sememangnya pandai di dalam taktik berperang ini mendapat kepakaran dan sentuhan daripada mereka yang berpengalaman di arena perang moden yang dibawakan khas daripada Negara Eropah maka mereka telah menghasilkan satu pasukan yang mantap.
Pada ketika inilah, Rajah Charles Brooke telah menggunakan Sarawak Rangers di dalam perang-perang untuk meluaskan empayar jajahan Negara Sarawak pada ketika itu bagi melawan mana-mana mereka yang menentang pemerintahan Brooke di bumi Sarawak suatu ketika dahulu. Sekitar tahun 1930an iaitu ketika dunia menghadapi kemelesetan ekonomi yang teruk pada waktu itu, Sarawak Rangers juga mendapat tempias yang sama apabila pada 29 Februari 1932, Sarawak Ranger telah dibubarkan secara rasmi dan akibat pembubaran itu ada di kalangan Sarawak Rangers telah kembali ke kampong halaman masing-masing dan ada juga telah dengan rela hati diserapkan menjadi pasukan Polis Negara Sarawak.
Pada ketika itu, Negara Sarawak telah stabil dan banyak keringat mereka dituntut untuk menjaga keamanan di bumi Sarawak pada masa itu. Ketika Negara Sarawak di dalam persediaan untuk menghadapi Perang Dunia Kedua, sekali lagi Sarawak Rangers telah dipanggil untuk berbakti dengan Negara Sarawak. Pada ketika itu Rajah Charles Vyner Brooke telah membentuk Sarawak Rangers kembali bagi tujuan pertahanan dan mereka telah terlibat secara langsung di dalam mempertahankan Lutong, Miri dan Kuching sewaktu pencerobohan tentera Jepun pada Disember 1941.
Ini terbukti apabila Sarawak Rangers adalah pertahanan terakhir sewaktu pertempuran terakhir di Kuching yang mana memaksa Sarawak Rangers untuk berundur ke kampong halaman masing-masing kerana kekuatan tentera Jepun sewaktu itu sememangnya begitu kuat sekali. Seperti kata pepatah lama biar putih tulang jangan putih mata, biarpun mereka telah berundur dan memberikan kemenangan kepada tentera Jepun namun begitu semangat anggota Sarawak Rangers mempertahankan bumi Sarawak tetap sentiasa ada di sanubari mereka dan akhirnya mereka bergabung dengan Major Tom Harisson iaitu seorang anggota tentera Tentera Komanwel daripada Australia yang melancarkan serangan gerila yang dikenali sebagai Pasukan "Z".
Kerana kepandaian dan kepakaran daripada Sarawak Rangers ini ramai tentera Jepun yang telah dibunuh oleh mereka. Setelah Jepun menyerah kalah akibat daripada pengeboman Hiroshima dan Nagasaki, pasukan Sarawak Rangers telah sekali lagi pulang ke kampong halaman mereka untuk kembali ke penghidupan normal mereka sebagai anak Sarawak. Di ketika Malaya menghadapi serangan pengganas komunis iaitu pada tahun 1948 yang lebih dikenali sebagai zaman darurat komunis, sekali lagi pahlawan-pahlawan iban ini dituntut kepakaran mereka untuk membantu Malaya pada ketika itu oleh Kerajaan British Borneo Sarawak.
Pada masa ini 49 penjejak Iban telah dihantar ke Malaya untuk membantu anggota pasukan tentera komanwel menangani pengganas komunis pada waktu itu. Kepakaran mereka menjejaki musuh di dalam hutan sememangnya tiada tolok bandingannya. Sepatutnya mengikut perjanjian 49 penjejak Iban ini hanya bertugas di Malaya selama 3 bulan dan selepas 3 bulan ada diantara mereka telah dengan rela hati untuk meneruskan perkhidmatan mereka di bumi Malaya pada waktu itu. Daripada 49 orang hanya 24 orang yang memilih untuk meneruskan perkhidmatan mereka dan 24 orang inilah yang diserapkan di dalam Pasukan Ferret No. 4 yang juga dianggotai oleh pasukan tentera Gurkha dan tentera Force 136.
Selepas itu penjejak Iban ini telah datang silih berganti ke bumi Malaya dan dicatatkan sehingga tahun 1952 telah lebih 1,168 penjejak Iban yang berkhidmat sebagai Penjejak Iban Sarawak di bumi Malaya. Mungkin ramai yang tidak mengetahui sejarah ini iaitu penjejak Iban Sarawak yang kali pertama gugur di dalam perkhidmatan mereka di Malaya hanya berlaku pada 12 Mac 1951 iaitu Mendiang Jaweng anak Jugah yang berasal dari Kapit, Sarawak. Mendiang terkorban kerana ditembak secara tidak sengaja ketika melakukan serang hendap ke atas pengganas komunis. Pada ketika itu mendiang tersilap dikatakan sebagai salah seorang pengganas komunis.
Bayangkan setelah beberapa tahun berkhidmat di bumi Malaya hanya pada tahun 1951 baru ada penjejak Iban yang terkorban di dalam perang. Inilah salah satu keisitimewaan penjejak Iban Sarawak Rangers yang sememangnya begitu pakar di taktik perang serang hendap. Selain itu tercatat satu lagi sejarah di dalam memartabatkan penglibatan penjejak Iban Sarawak Rangers di dalam perang di Malaya apabila Awang anak Rawing, anak iban dari Skrang telah dianugerahkan dengan Pingat George Cross manakala Menggong anak Panggit menerima Pingat George daripada Kerajaan Mahkota Great Britain atas keberaniannya menyelamatkan pasukan masing-masing sewaktu keganasan komunis berleluasa di bumi Malaya ketika itu.
Biarpun penjejak Iban Sarawak ini merupakan mereka yang bertugas dengan tentera namun begitu mereka masih lagi tidak mendapat pengiktirafan sebagai anggota tentera sepenuhnya jadi bagi menjaga kebajikan mereka pada dari segi hak dan status setelah permuafakatan antara Kerajaan British Borneo Sarawak, pemimpin masyarakat Iban dan Kerajaan Koloni British maka pada tangga1 1 Januari 1953, Sarawak Rangers Unit Tanah Melayu telah ditubuhkan secara rasmi dengan pegawai pemerintahnya yang pertama adalah Leftenan Kolonel C.J Baird. Bermula dari tarikh hari itu, barulah Sarawak Rangers dengan rasminya menjadi anggota tentera sepenuhnya.
Pada 1 April 1960, Sarawak Rangers Unit Sarawak, Borneo telah ditubuhkan secara rasminya di bumi Sarawak oleh Kerajaan British Borneo Sarawak dengan pegawai pemerintahnya merupakan anak tempatan yang juga salah seorang penjejak Iban Sarawak Rangers iaitu Leftenan Tomlow anak Isa. Ini merupakan satu penghormatan yang besar kepada perjuangan anak Iban di dalam Sarawak Rangers memandangkan ketika itu Sarawak masih lagi menjadi tanah jajahan Kerajaan British Borneo. Sarawak Rangers keberanian dan kepakaran mereka dituntut di dalam banyak perang-perang di bumi asing contohnya di Malaya dan Brunei malah Sarawak sendiri walaupun ketika itu Sarawak belum lagi membentuk Gagasan Malaysia.
Ada antara penjejak Iban Sarawak Rangers ini telah gugur di medan perang di bumi asing dan telah disemadikan dibumi asing suatu ketika dahulu dan hanya pada tahun 2011, 21 jenazah penjejak Iban telah dibawa pulang ke tanahair tercinta mereka iaitu Sarawak Bumi Kenyalang. Antara penglibatan perang mereka adalah seperti berikut: 1. Kempen mengamankan Sarawak era Rajah Brooke.(1862 – 1942) 2. Perang Gerila Jepun bersama 'Reconnaissance Service Department' (RSD) di Sarawak. (1942–1945) 3. Darurat Malaya. (1948 – 1960) 4. Darurat Sarawak (1952 – 1953) 5. Pemberontakan Brunei (1962) 6. Konfrantasi Indonesia Malaysia (1962 – 1963) Di dalam perjanjian Penubuhan Malaysia, pihak Kerajaan British telah bersetuju untuk menubuhkan 2 buah batalian Askar Renjer Malaysia dan seterusnya melatih anggota-anggota tentera di peringkat awal dan seterusnya diikuti dengan penubuhan battalion ketiga.
Penubuhan Askar Renjer Malaysia telah diumumkan di Parlimen British (House of Commons) oleh Secretary of State for Commonwealth Affairs pada 18hb Julai 1963. Hanya beberapa hari sebelum Sarawak dimerdeka secara rasminya iaitu pada 22hb Julai 1963. Ekoran daripada itu, Sarawak Rangers telah dibubarkan secara rasminya dan kemudian pada 16 September 1963, anggota Sarawak Rangers telah diserapkan menjadi Batalion Pertama Regimen Renjer Malaysia. Batalion Kedua Regimen Renjer Malaysia terdiri daripada anak tempatan North Borneo (Sabah) dan Batalion Ketiga Regimen Renjer Malaysia merupakan anak tempatan Tanah Melayu. Inilah sejarah panjang Sarawak Rangers dari tahun 1862 – 1963 yang kemudiannya dikenali sebagai Regimen Renjer Malaysia setelah penubuhan Gagasan Malaysia pada 16 September 1963.
Sarawak Rangers merupakan simbol kemegahan bangsa Sarawak dulu, kini dan selamanya dan sejarah tentang mereka seharusnya diketahui secara umum oleh rakyat Malaysia amnya dan Bangsa Sarawak khususnya. Jasa mereka bukan sahaja untuk Sarawak ibu pertiwi mereka malah jasa mereka juga turut disumbangkan di dalam memastikan kemerdekaan dan keamanan untuk bumi Malaya suatu waktu dahulu malah sehingga sekarang. Jasa mereka dilupa jangan oleh seluruh rakyat Malaysia. Selamat Hari Kemerdekaan Yang ke 57 Persekutuan Tanah Melayu (31 Ogos 1957 - 31 Ogos 2014) Selamat Hari Kemerdekaan Yang ke 51 Sabah (31 Ogos 1963 - 31 Ogos 2014) Agik Idup Agik Ngelaban. Borneo Oracle Salute Sarawak Rangers (1862-1963)
posted by Major D Swami (Retired) @ 2:45 PM

The follow up on the trail of the enemy by Captain Sabdin Ghani - Seventh Rangers
Friday, October 26, 2018

15 Soldiers of 7th Rangers ambushed and killed by the Enemy. After this tragic incident when 15 soldiers of the 7th Rangers were killed in an ambush, the pressure was very great on all to get "pay back". The follow ups were conducted relentlessly by various sub units of the Seventh Rangers.
There were long range fighting patrols, where their fatigues virtually rotted on their bodies, as they spent day in day out in the swamps hunting down the killers. Everyone in Seventh Rangers wanted to very much close up with the enemy and kill them. There was one patrol led by an Officer Commanding, he was Captain Sabdin Ghani.
They were airlifted for the follow up to the most likely enemy escape route. They jumped off the hovering helicopter into waist deep brackish and a foul smelling swamp. The helicopter left them there. They started looking for signs of the enemy, soon they came across a trail. They had picked up the fleeing trail of the enemy. They pursued the enemy by day until nightfall, where they continued pursuing the enemy aided by the moonlight in the swamp.
They suddenly came upon solid ground, which was covered by "mengkuang" leaves. These large leaves if stepped upon would make a crackling sound. Captain Sabdin Ghani split his men into two groups, one led by himself and the other led by Sergeant Lucas. Sergeant Lucas moved his men into a flanking movement. In the moonlit night at a

distance

they came upon two huts connected by a walkway.
Captain Sabdin's group got on their knees and started crawling, clearing the "mengkuang leaves" so as not to give away their positions. Soon his group started climbing up the huts which were on stilts. The enemy became

aware

of the presence of the Rangers. The moment the enemy became aware Captain Sabdin Ghani

opened

up with his Sterling sub machine gun. His group too opened up. The short and fierce encounter resulted in two of the enemy being killed.
Another group led by Captain

Abdullah

of A Company laid a

claymore

ambush. This was a linear ambush. A group of six of the enemy who were also fleeing walked into the ambush position. One of the enemy realising that they were in an ambush position started stomping his feet into the ground trying to warn the others. The Rangers were not going to let them get away. The person holding the M57 firing device fired the claymore mines.
The mines got four of the enemy, two others managed to flee. When the clearing patrol, led by Lance Corporal Rahman Putih, saw one of the wounded enemy crawling trying to escape, he was badly wounded at the hip. Lance Corporal Rahman Putih was not feeling merciful that morning, thinking of his 15 dead comrades in arms. He finished off the wounded enemy with a

burst

from his Sterling sub machine gun. A total of 4 dead enemy were recovered by the clearing patrol.
* As related by Lt Col (Rtd) Baldev Singh
posted by Major D Swami (Retired) @ 11:16 AM

Collaborators and Traitors during the 2nd World War in a picture
Thursday, April 19, 2018
posted by Major D Swami (Retired) @ 5:23 PM

Malay Communists slain during the 1st Emergency
Wednesday, April 04, 2018
Bandits were Communists, that's what the dumfuk Brits called them.
Source page 135 and much more here............. The British colonial government called it an "Emergency" and not "war" so that London commercial insurance rates, on which Malayan commerce and industry relied upon, would not be adversely affected.
But it was nothing less than an outright war. The Emergency affected the country as the atrocities committed by the bandits (later called communist terrorists) were enormous. The economy was in tatters, people were killed and infrastructure damaged.
More here..............
posted by Major D Swami (Retired) @ 11:38 AM

Legacy of Mamakthir - So called "Great Leader"
Sunday, February 18, 2018
So Called Great Leader.
I had placed poll on the left side bar of my blog on our Great Leader on Wednesday, December 16, 2009. You are allowed 5 answers.
This poll will run for a month. I allowed it to run until Vizu Polls shut down on the Tuesday, December 11, 2012, with a total of 16,254 people who rsponded.
It is what you feel about him. It basically is about what he is, the"Father of".
This will be his legacy when he kicks the bucket.
posted by Major D Swami (Retired) @ 7:48 PM

History of the 1st Rangers (Formerly Sarawak Rangers)
Sunday, May 15, 2016
In the history of the Malaysian Armed Force, no single Infantry Unit has killed more enemy than the 1st Rangers. Just an update, some bright bulb wanted to have the 1st Rangers which was in Johore Bahru, become a ceremonial battalion, just like the 1st Battalion Royal Malay Regiment in Kuala Lumpur. What they did is transferred around a hundred soldiers from the 1st Rangers in Johore to 6th Rangers in KL, likewise transferring around a hundred soldiers to Johore. They exchanged histories and the colors. Viola! 6th Rangers becomes 1st Rangers and 6th Rangers becomes 1st Rangers. This happened this year, 2016. Now they might change the Corps Home from Ipoh to KL. A couple of pen pushers sacrificed honour, blood, sweat, tears and history. They threw that into the garbage bin for expediency and cost cutting. They could have moved the whole battalion to KL. Negating history has finally arrived. This is what happens when pen pushers rise in the ranks.
posted by Major D Swami (Retired) @ 12:32 PM

ARCHIVES
Previous Post
Links
Links To Rangers
Military Related Links
XXXX

xxxx
xxxx
XXX
XXXX
World
xxxx
Advertistment
Advertistment
XXXXXXXX
Advertistment
XXXXXXXX
Advertistment
XXXXXXXX
Advertistment
XXXXXXXX
Advertistment
XXXXXXXX
Advertistment
XXXXXXXX
Advertistment
XXXXXXXX
Advertistment
XXXXXXXX
Powered by