The Courageous
Who Have Looked At
Death In The Eye
Nuffnang
Miscellaneous
No Atheists
In A Foxhole
"When you're left wounded on

Afganistan's plains and

the women come out to cut up what remains,

Just roll to your rifle

and blow out your brains,

And go to your God like a soldier"


"We are not retreating. We are advancing in another direction."

"It is fatal to enter any war without the will to win it."

"Old soldiers never die; they just fade away.

"The soldier, above all other people, prays for peace,

for he must suffer and be the deepest wounds and scars of war."


"May God have mercy upon my enemies, because I won't ."
"The object of war is not to die for your country but to make the other bastard die for his.

"Nobody ever defended anything successfully, there is only attack and attack and attack some more.

"Fixed fortifications are a monument to the stupidity of man."
"It is foolish and wrong to mourn the men who died.
Rather we should thank God that such men lived.


The Soldier stood and faced God
Which must always come to pass
He hoped his shoes were shining
Just as bright as his brass
"Step forward you Soldier,
How shall I deal with you?


Have you always turned the other cheek?


To My Church have you been true?"


"No, Lord, I guess I ain't


Because those of us who carry guns


Can't always be a saint."


I've had to work on Sundays

And at times my talk was tough,

And sometimes I've been violent,

Because the world is awfully rough.

But, I never took a penny

That wasn't mine to keep.

Though I worked a lot of overtime

When the bills got just too steep,


The Soldier squared his shoulders and said

And I never passed a cry for help

Though at times I shook with fear,

And sometimes, God forgive me,

I've wept unmanly tears.

I know I don't deserve a place

Among the people here.


They never wanted me around


Except to calm their fears.


If you've a place for me here,


Lord, It needn't be so grand,


I never expected or had too much,


But if you don't, I'll understand."


There was silence all around the throne

Where the saints had often trod

As the Soldier waited quietly,

For the judgment of his God.

"Step forward now, you Soldier,

You've borne your burden well.

Walk peacefully on Heaven's streets,

You've done your time in Hell."


Links
& Infor
xxxx
Glorious
Malaysian Food
xxx
&
Other Stuff
xxx
xxx
xxx
XXXX
xxxx
Advertistment
XXXXXXXX
Advertistment
History of the 1st Rangers (Formerly Sarawak Rangers)
Saturday, September 11, 2021
In the history of the Malaysian Armed Force, no single Infantry Unit has killed more enemy than the 1st Rangers. Just an update, some bright bulb wanted to have the 1st Rangers which was in Johore Bahru, become a ceremonial battalion, just like the 1st Battalion Royal Malay Regiment in Kuala Lumpur.
What they did is transferred around a hundred soldiers from the 1st Rangers in Johore to 6th Rangers in KL, likewise transferring around a hundred soldiers to Johore. They exchanged histories and the colors. Viola! 6th Rangers becomes 1st Rangers and 6th Rangers becomes 1st Rangers. This happened this year, 2016. Now they might change the Corps Home from Ipoh to KL. A couple of pen pushers sacrificed honour, blood, sweat, tears and history. They threw that into the garbage bin for expediency and cost cutting.
They could have moved the whole battalion to KL. Negating history has finally arrived. This is what happens when pen pushers rise in the ranks.
posted by Major D Swami (Retired) @ 11:32 AM

REUNION VETERAN 7 RENJER N MEK 21032020 SARAWAK
Monday, March 08, 2021
posted by Major D Swami (Retired) @ 4:55 PM

CIA Document Reveals True Intention Of Malaysia Formation
Sunday, January 10, 2021
In this chapter of Declassified Malaysia, we expose the declassified documents from CIA and British archives on the true intention of the formation of the new Federation of Malaysia 1963. Here, we disclosed on how Sarawak territorial waters has been taken (RAMPAS) by the Federal Government through their evil political scheme.
posted by Major D Swami (Retired) @ 11:12 AM

Malaya - the Undeclared War (Malayan Emergency)
Tuesday, January 05, 2021
BBC's classic 1998 account of Malayan Emergency with guerrilla leader Chin Peng narrated by Ben Kingsley
posted by Major D Swami (Retired) @ 9:02 AM

May 13th 1969 - I witnessed a person being beheaded
Wednesday, May 13, 2020
Malaysiakini : The following video includes troubling details of the deadly riots on May 13, 1969. This dark episode of history is so painful that it is shrouded in secrecy and taboo.We tell this story today - 50 years to the day - for generations of Malaysians born after the riots.
posted by Major D Swami (Retired) @ 9:15 AM

50 years on, seeking the path to reconciliation after the May 13 riots
Victims of May 13th 1969
Malaysiakini : Editor's note: The following article includes troubling details of the deadly riots on May 13, 1969. This dark episode of history is so painful that it is shrouded in secrecy and taboo. Fifty years to the day, we are sharing several stories for generations of Malaysians born after the riots. May it serve as a lesson for today and our collective future.
The bloody riots of May 13, 1969, in Kuala Lumpur – just three days after Malaysia's third general election – has left an indelible mark on the nation's history.

In the decades after, and often in the lead up to elections, political leaders often raise the spectre of May 13 as a means to further their vested interests. In the meantime, the trauma remains deep in the hearts of the victims and their families as the tragedy remains largely unspoken and stigmatised.
Malaysia is not the only country that faces historical trauma, but others have managed to overcome their dark past and move towards reconciliation. One such country is South Africa. Following long-time opposition leader Nelson Mandela's election as president in 1994, the government formed the Truth and Reconciliation Commission to address the impacts of apartheid. The commission held truth-seeking hearings to allow both victims and perpetrators a safe space to share their experiences. Perpetrators were given amnesty conditionally.
The aim was to restore relations between the oppressed black community and their oppressors from the white community, and it did so by fostering truth-seeking, mutual understanding, reasonable compensation, apologies, and faith in history-recording. An extensive report comprising of thousands of pages was published, and the commission continues working towards supporting victims and proposing policies that promote national healing.


But there were drawbacks. The way perpetrators are offered a pardon in order to get the full disclosure has been questioned as it may violate the legal rights of the victims' families. The South African government was challenged in the Constitutional Court on this matter. This is unlike in post-World War II Germany, where high profile Nazi leaders were sentenced to death or life imprisonment during the Nuremberg trials.
The trials were held to punish perpetrators of crimes related to the genocide of about six million European Jews under Nazi Germany. It was conducted by the International Military Tribunal that was set up by the Allied Forces after it captured Germany. But taking the punitive approach has not fostered mutual trust between victims, perpetrators, and their sympathisers.
Although Nazi symbolism is banned in Germany, the country continues to grapple with Neo-Nazi movements. In 2012, the German intelligence agency estimates that about 6,000 Neo-Nazi followers were living in the country.
So which method should Malaysia follow to bury the spectre of the May 13 riot? Sunway University political scientist Wong Chin Huat said as foreign experiences and approaches are rooted in their own social context, they may not be applied directly in Malaysia. He pointed out that the essential reason why Germany was able to undertake "denazification" to purge the elements of the old Nazi regime was that it was a defeated country then.
Similarly, after the reunification of Germany, the past records of East Germany's secret police (Stasi) were declassified, and those with a tainted past were forbidden to take certain jobs, similar to the "lustration" in some post-communist countries. "When the citizens had accepted that crime has been committed by the state, dismissing the past was to establish a different future. Also, those who were purged were losers with neither legitimacy nor organised resistance," he said.




For South Africa, Wong (photo) said the government was able to uphold justice because apartheid was globally condemned, and black people were the majority. A tough approach on the old regime would continue the ethnic conflict so a softer approach was taken, Wong said. Some countries do not pursue transitional justice for their dark history. In Indonesia, the mass killings of communists and Chinese Indonesians cut too deeply, that the establishment fears an investigation could lead to political and social upheaval.

"Hence, if there is no transitional justice, the survivors or their families will not get closure, and then there will be no complete reconciliation," he said.
"On the other hand, if transitional justice causes the other party to react strongly, there will never be reconciliation." In Malaysia, the first big hurdle is establishing the truth. Although the National Operations Council published a white paper on the riots in October 1969, this version of events has been incessantly questioned. In the NOC's version, the riots were a spontaneous incident triggered by overt and insensitive celebrations by opposition parties after winning about half the seats in the Selangor state assembly in the 1969 polls.
But other scholars, like Kua Kia Soong, argue the riot was a veil for a coup d'état against the then Prime Minister Tunku Abdul Rahman, favouring his deputy Abdul Razak Hussein. Razak's ascent to premiership in 1970 was seen as evidence of that. Disparities between the number of people who died have also been a source of contention. The NOC report said 196 people died; British diplomats at the time estimate it to be around 800.
The NOC casualty figures may be markedly smaller, but the proportion of Chinese Malaysian victims who died, mostly from gunshot wounds, leads to another bone of contention – the perceived partiality of the Malay-dominated security forces.
Much at stake
Beyond the details of the riot, the repercussions are also problematic. Parliament was suspended in 1969, and when it reconvened two years later, Razak was the prime minister.




He believed unity could only be achieved with the fair distribution of wealth. This led to the National Economic Policy in 1971, using affirmative action to grow bumiputera ownership. The NEP has lapsed but its ethos remains, with race-based affirmative action favouring Malays and other bumiputera firmly in place. Wong said, many non-Malays believe that re-examining the May 13 tragedy could remove the legitimacy of the "post-1969 pro-Malay establishment," which would be necessary for its eventual removal.
At the same time, according to him, most Malays see the post-1969 system as fundamental to the survival and dominance of their ethnicity and faith, which must be defended at all costs. Hence, "If re-examining history can be harmful to the system, concealing or distorting history would be a necessary evil," he explained. "If the history of May 13 is but a battlefield for a larger war, then revisiting it will not bring us closer to reconciliation." "On the other hand, if we just forget May 13, not only the survivors and their families are denied a closure, the spectre of May 13 – as a result of partisan interpretations – will stay on in our society."
Overcome the fear and start the discussion
Many generations after 1969 grew up with an inexplicable fear of the May 13 tragedy. The incident remains off school history textbooks, while stigmatisation has stopped those who lived through it from freely discussing it with younger generations. For years, it has been a convenient bogey against a change of government. In 1969, the riot came after opposition supporters prematurely celebrated what they believed was their takeover of the Selangor assembly, when in fact it was hung.
But in 2008 and in 2018, peaceful regime change happened at state and federal level respectively, scorching the fear of post-election bloodshed. Might the time be ripe for a national conversation on May 13?




Former Suhakam commissioner Jerald Joseph (photo) first started holding anti-racism and non-discrimination workshops across the country a decade ago. He feels that encouraging a conversation on this dark episode of history is a step towards reconciliation. "Reconciliation is about overcoming suspicions, misinformation and misconceptions, and moving towards real respect to each other.
"Not talking about it, or not being able to talk about it, will suggest that we have not grown, and that means we have not moved on from the past. "I think the history books today must try to uncover the actual actors involved and how it happened," he said.
'No one's starting a war'
In the first three decades after the riot, those interested to learn more about the incident from the National Archives would only find the NOC report. Copies of newspapers from the year 1969 were conspicuously missing – purportedly damaged with time. But times are changing. Copies of newspaper articles and photos related to the riot began entering the archives since 2001, and now they are available for public access.
Photos available include those of campaigning for the general election, the funeral procession of a Labour Party worker in Kuala Lumpur that the NOC report said had raised tensions before the polls, and May 13 refugees housed in stadiums. There are also books on the topic published by NGOs and some transcripts of oral history. However, some old newspapers are not digitised, the ageing paper crumbles and fall apart each time somebody flips through its pages.
But the inclusion of these items may indicate a growing readiness to explore the issue.

Joseph believed Malaysia is ready for a South Africa-style commission to establish the truth and seek reconciliation in an apolitical manner. His experience running anti-racism workshops taught him that Malaysians are able to talk about their suspicions and fears of one another without negative repercussions. "There were some people who cried during the process, but at the end, everybody hugged, and they started to talk about their inner pains," he said.
"That was also a kind of reconciliation process. There are many small efforts have been done over time, and I think it's time for Malaysia as a nation to reconcile any race-based past. "All that (the riot) is in the past. None of us today are proposing to go to war. It is for us to close our old chapter so nobody will ever dare to use May 13 as a negative way to threaten Malaysians anymore."
But not everyone is so optimistic. Helen Ting is a political scientist specialising in the politics of national identity, multiculturalism and history education. She believes that while a peaceful regime change has put to bed the fear of post-election violence, it is still not the right time to discuss an ethnically-sensitive issue like the May 13 due to the current political climate. This is because the Umno-PAS cooperation after the 14th general election is forcing a political agenda that is based on race and religion.




Discussing it now at a time where the government is too "fragile" to confront its opponent's ethnically divisive political rhetoric would only derail the objective of reconciliation, Ting (photo) said. She said the government has shown it was "not thoughtful or well-prepared," and had buckled under pressure when confronted with issues relating to race and religion. "I believe that one day in the future, the state should admit the experiences of the people, admit they are the victims and that they are innocent. "But when is the right time? That is a problem. I don't think it's the right time now," she said.
Ting said the socioeconomic situation now has changed as the NEP has resulted in the growth of a Malay middle class. "They will not hope that the racial riots happen again, because it will affect the national economy, and thus affect them." Instead of revisiting history to use the May 13 riot as a cautionary tale, she said other mechanisms can be used to avoid a recurrence, including fair law enforcement and controlling the spread of rumours.
Political scientist Abdul Rahman Embong believes it will be difficult to establish the truth of what happened on May 13, 1969. "Digging into the past, especially when there is a very delicate past, has its pros and cons. If you say you want to achieve the truth, how would you verify truth? What is acceptable to you, may not be acceptable to the other side," said the professor emeritus at Universiti Kebangsaan Malaysia.
Rahman also believes that a riot of that nature is unlikely to recur because political and economic conditions in Malaysia have changed. "Why go back? We should move forward. There were errors in the past, yes, but our concern now is the future. If it is an immediate past then it is different, but this is half a century (ago)." Instead of nationwide truth and reconciliation hearings à la South Africa, Rahman (photo) said, it would be better for a commission to be established to collect grassroots views on what should be the new Malaysian narrative.


One difficult topic that will need to be addressed in the bid for reconciliation is race-based affirmative action and its impact on national unity. While it was largely accepted as a means to correct imbalances in 1969, race-based affirmative action policy without expiry dates will institutionalise racial discrimination, Joseph said.
To move towards unity, it needs to be replaced with a needs-based policy – a move Rahman said will still favour Malays as they make up the bulk of B40 community, but will also help those of other races in need. Any conversation to dismantle the legacy of the NEP – and by extension, May 13 – however, is likely to face stiff resistance if the reaction to the decision to ratify the International Convention on the Elimination of All Forms of Racial Discrimination (Icerd) is anything to go by.
As for how the political and socio-economic system should evolve, Wong believed that the most important factor is public opinion at the present, not what happened in the past. He stressed that to have an open discussion on history and correct any injustice, we must "understand and empathise," instead of automatically taking positions that further our vested interests.
The difficulty in discussing it should not derail all efforts to record what happened during the May 13 riot, Wong said. "The most urgent thing is to record oral history as much as possible, because witnesses or survivors are ageing and dying." "The next task is to study the historical archives as many files in foreign archives may be declassified as their confidentiality period ends.
"To complete these urgent tasks, what we need is ample resources, not grandstanding," Wong added.
posted by Major D Swami (Retired) @ 9:10 AM

Lifting the shroud of secrecy to ease May 13 victims' trauma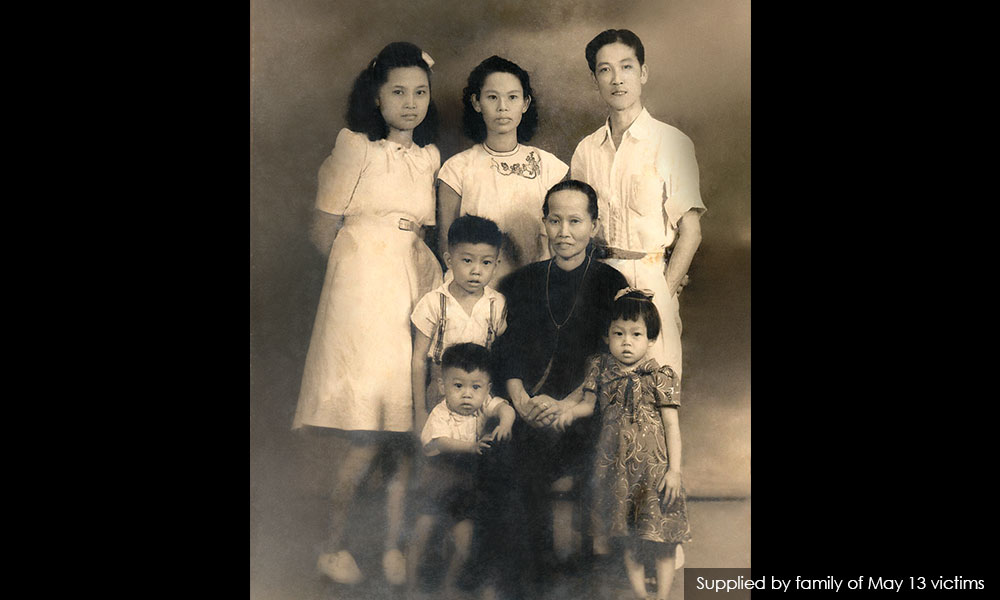 Some of those pictured in this family photo, taken two decades before May 13, 1969, suffered a violent end during the riot. The family lived in Kampung Baru.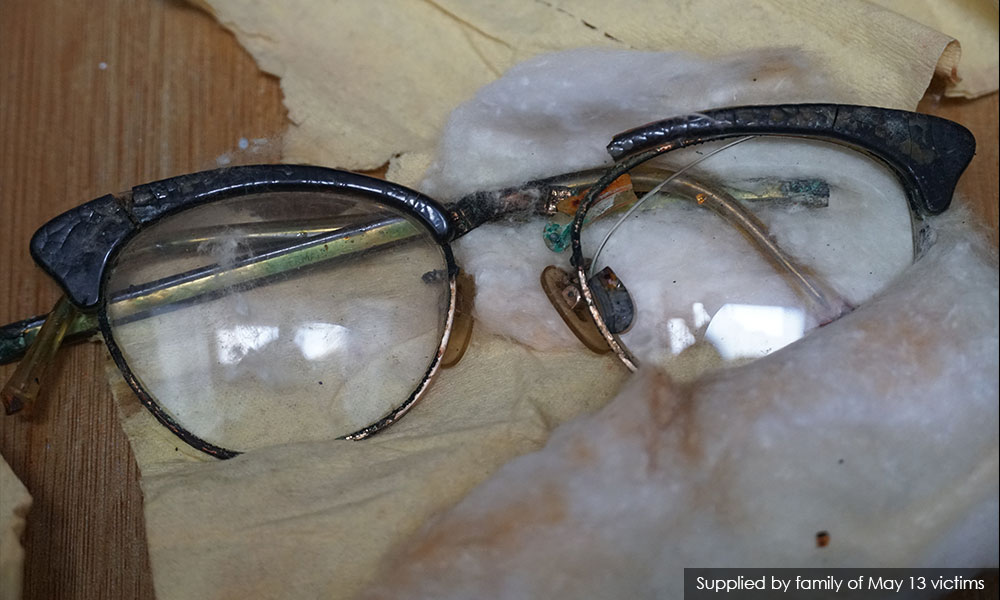 An eye witness collected these spectacles belonging to her mother from their razed family home during the May 13 riot. She also found the body of her brother there.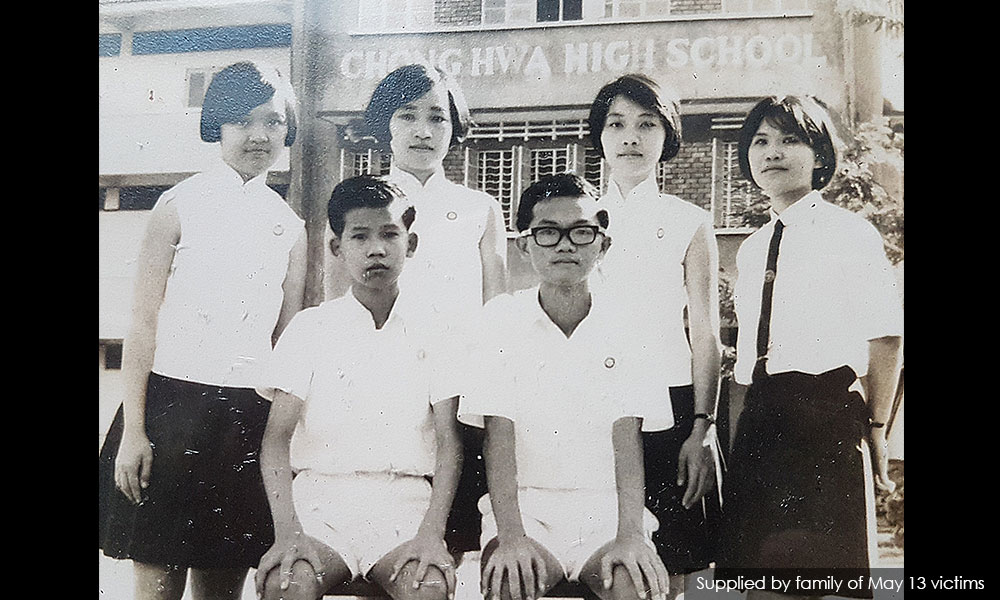 This is the only surviving photograph of a 14-year-old victim of the riot, killed in his home in Kampung Baru. He is seated on the left. His sister borrowed this photo from a friend.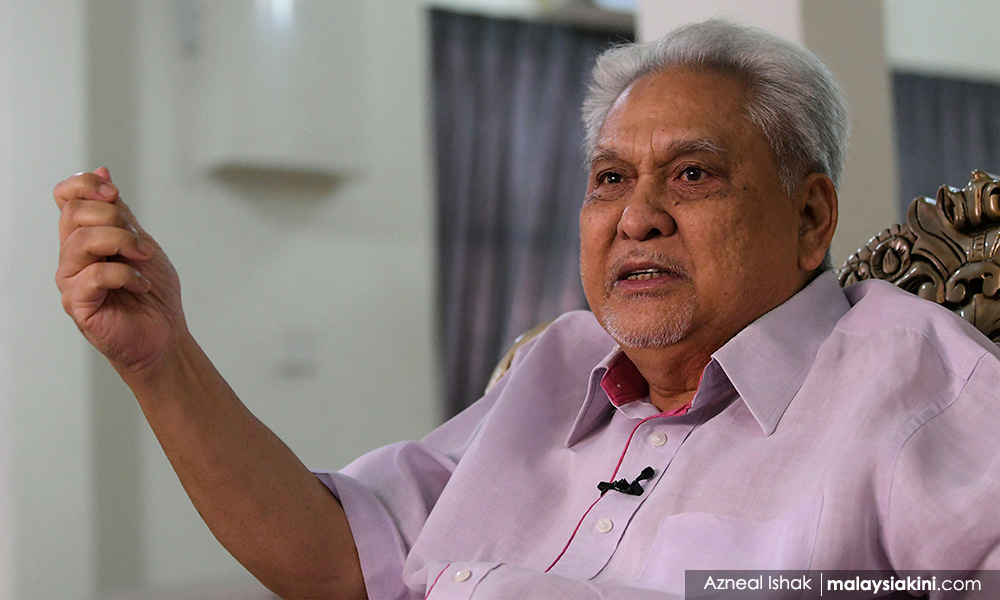 Abdul Rahman Mohd Noor was a 21-year-old university student living in Kampung Baru during the May 13 riot. He says witnessing the riot made him more radical in his views.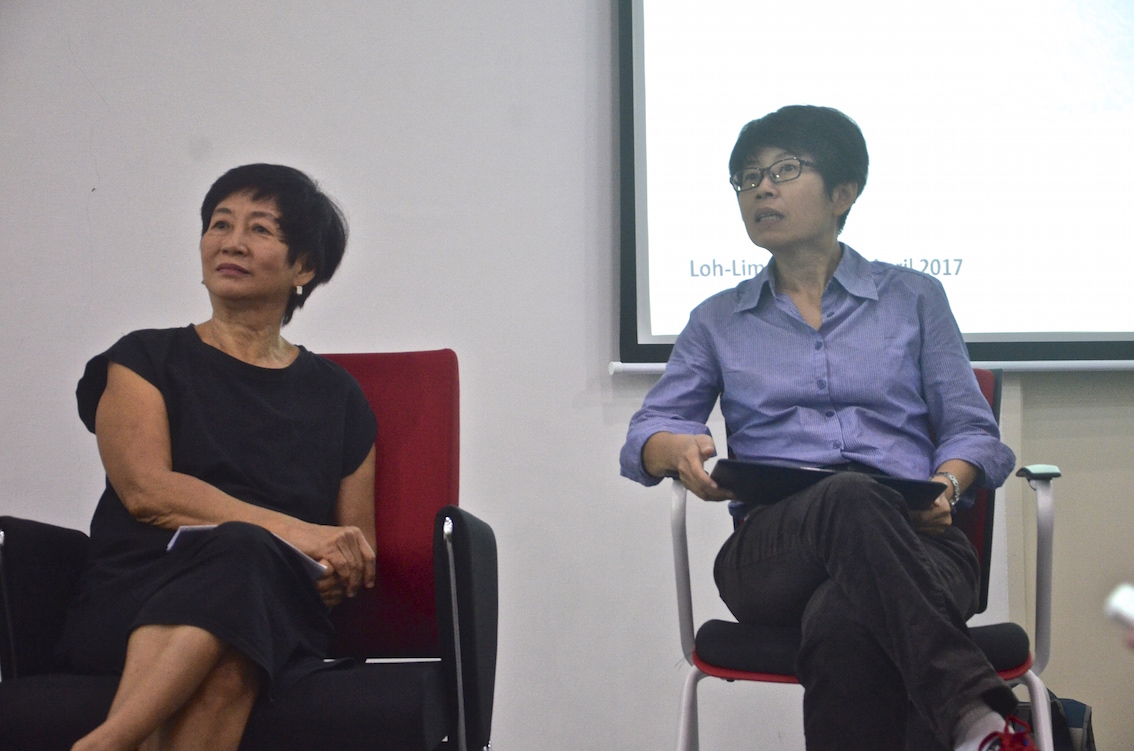 Por Heong Hong (right) has interviewed dozens of eye witnesses and victims of the May 13 riot.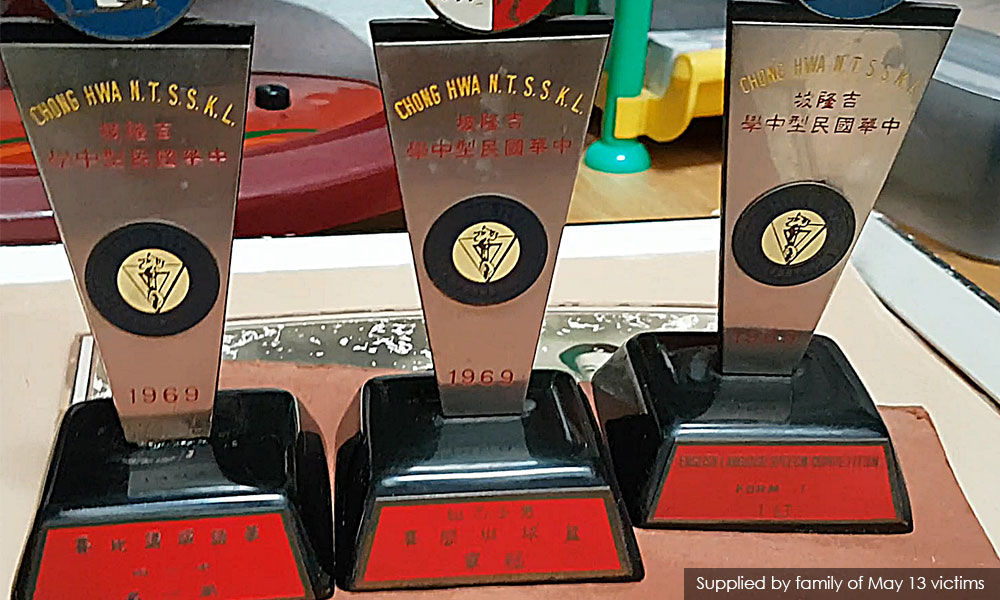 A teenage victim of the riot died before he had a chance to collect these trophies. His sister recalls tearfully collecting them from his school. His family remembers him as an all-rounder -- excelling in academics, arts and sports.

Malaysiakini : In Malaysiakini's conversations with victims and eyewitnesses of the May 13, 1969 riots, many struggled to gather their thoughts when recounting their experiences.
They often broke down during interviews and some admitted having never spoken about what happened, until now. One 70-year-old man said he had never told his family how he had offered himself to be killed in order to save a young Chinese family from a Malay mob, during the riots. He was in tears as he recalled how he tore off his clothes during the episode of hysteria.
Fifty years on, he has not been able to understand why he reacted that way that day and continues to have flashbacks of the incident when he is near where it happened. In another interview, a woman - also in her seventies - paused several times to regain her composure as she recalled the day she learned that her grandmother, mother, and siblings aged 18, 14 and 10 had died during the riots. Some of those pictured in this family photo, taken two decades before May 13, 1969, suffered a violent end during the riot.
The family lived in Kampung Baru. She survived because she was not in Kuala Lumpur on that day and upon returning, she found her brother's dismembered remains in what was left of her family home after it was razed to the ground. "All these years, I have not dared to think about it, or talk about it, or even ask about it. "Because the thought of them just hurts too much," she said. Do you have a May 13 story? Join the conversation - share your stories or read more from others who were there. Like the man, she has been unsuccessful at burying this memory, but also confessed to being afraid of forgetting her loved ones in case no one was around to remember them anymore.
She carefully preserves keepsakes recovered from the family home -- school exercise books belonging to her brothers and their childhood drawings, her grandmother's clothes and her mother's broken glasses -- as evidence of their lives. An eye witness collected these spectacles belonging to her mother from their razed family home during the May 13 riot. She also found the body of her brother there. She has never discussed May 13 with her surviving siblings, and whenever the topic was brought up in conversations, she would have trouble sleeping and even feel suicidal as a result. Half a century has passed and there is no longer a tangible threat to their safety, but perhaps a sign of their prolonged trauma, both wanted to remain anonymous.
Secrecy is the site of dysfunction
Not talking about past trauma can cause victims to relive their distressing experiences as they have not been able to make sense of what happened, said clinical psychologist K Vizla when asked about these accounts. "Trying to forget a memory like that is futile. Unfortunately, this is what many people try to do, and it actually causes more psychological harm. Forgetting is not a good coping mechanism," she said. As such, Vizla believed it is important for the government to encourage discussions around May 13 to break the silence that has engulfed it. "There is so much secrecy around the May 13 incident. Secrecy is the site of dysfunction.
"The longer there is silence around the issue, the harder it will be for survivors to heal from their trauma," she said. This is the only surviving photograph of a 14-year-old victim of the riot, killed in his home in Kampung Baru. He is seated on the left. His sister borrowed this photo from a friend. Such conversations would benefit not just the survivors but also their family members, who often live with second-hand trauma that they inherited. "The trauma now extends to a few generations. All of us need to collectively heal," Vizla said.
Trauma and radicalisation
Trauma could also manifest in different ways. Abdul Rahman Mohd Noor was a 21-year-old student living in Kampung Baru, a riot hotspot and witnessed mobs attack unsuspecting bystanders. Growing up in a multi-ethnic setting, he had many childhood friends from other races and had harboured no suspicion against non-Malays. "But May 13 made me and (Malay) friends my age very angry. It ignited a strong feeling of 'Malay-ness' within us.
"After two to three years, I became someone hot-tempered. And if there was any mention of Malay rights or interests, I would say, 'No compromise!'," he said. Abdul Rahman Mohd Noor was a 21-year-old university student living in Kampung Baru during the May 13 riot. He says witnessing the riot made him more radical in his views. Without an avenue to unpack the distrust he had developed; it would be many years more until Abdul Rahman managed to overcome those feelings. "After a while, I came to realise that you can't clap with one hand," he said.
SH: Weaponised discourse
The academic Por Heong Hong, who has written extensively about May 13, called for more safe spaces that would allow people to talk about what they went through. In her interviews with victims and their families, she found that many continued to be haunted by their memories and feared the possibility of recurring violence because they had not been able to discuss their experiences.
The independent researcher opined this culture of silence was partly driven by how the discourse on May 13 has thus far been hijacked, and weaponised, by politicians. "May 13 itself as an incident has been made into a symbol to threaten people by certain politicians. Like if you vote for a certain party or certain members of the society, you are going to create a lot of trouble. "It has been made into a symbol of violence, and no one is allowed to tell a narrative that is different from the official one," Por said.
The lack of safe spaces and the subsequent vacuum of personal accounts has ultimately deprived the public, especially younger Malaysians, of a deeper understanding of May 13 and why it should never happen again. This was made worse by the lack of detailed information on the 1969 riots in the National Archives or national libraries. Photos, books, and newspaper clippings on the incident only started entering the National Archive's collections in the early 2000s.
The incident remains absent from the national school history syllabus, despite its lasting impact on Malaysian history and current policy-making.
Losing the human stories
The stigmatisation of the event has also placed a veil over the human stories of May 13 - many eyewitnesses, survivors, and loved ones of those who perished still dare not share their stories. "It is these human stories that are missing from all the narratives about May 13. The human experiences and the human faces of the incident. "Who were those people? What happened to them after the incident?"
Por questioned. A teenage victim of the riot died before he had a chance to collect these trophies. His sister recalls tearfully collecting them from his school. His family remembers him as an all-rounder -- excelling in academics, arts and sports. With many witnesses now advancing in age, the window of opportunity to record this oral history is narrowing. For some, like Abdul Rahman, the passage of time has prompted a sense of urgency to share their experience, especially with young Malaysians. Read more: May 13, never again
The 70-year-old eyewitness who spoke under condition of anonymity said he felt compelled to tell his story now, because he heard younger Malaysians threatening "another May 13". "People like us don't want to talk about it. We'd rather keep quiet and hope it will never happen again. "The only reason I am talking about it now is that I think it's time. Many of us who witnessed it have died. "I want this story to be a lesson. My fervent wish is that it will never happen again," he said.
Annabelle Lee, M Fakhrull Halim, Tham Seen Hau, and Aidila Razak contributed to this article.
posted by Major D Swami (Retired) @ 9:08 AM

On May 13, 1969, a Chinese village came under a hail of gunfire by Tham Seen Hau
A near ethnic cleansing
Malaysiakini : Editor's note: The following article includes troubling details of the deadly riots on May 13, 1969. This dark episode of history is so painful that it is shrouded in secrecy and taboo.
Fifty years to the day, we are sharing several stories for generations of Malaysians born after the riots. May it serve as a lesson for today and our collective future. The following article contains graphic description of the violence that took place. Not everything can be independently verified. However, portions which can be corroborated are marked in blue hyperlinks.
Foong Yee was a 24-year-old probationary police inspector when the May 13, 1969 riots broke out. Fifty years on, his experience driving through the blazing and lawless streets of Kuala Lumpur remains fresh in his memory. In his account below, he recalls how he managed to save his kin, evacuate his entire village, and rescue his Malay neighbours from being killed by Chinese secret society members. Along the way, he experienced a brush with death when he drove into a group of army personnel by accident.
Seconds from death, he recalls feeling the muzzle of a gun on his temple. "If he had pulled the trigger, I would not be telling you my story at this moment." In 2000, Foong retired from the force as the deputy police chief of Kuala Lumpur. This is his story, as told to Tham Seen Hau. On May 13, I was at Kepong Baru renovating a house that my dad had just bought. The whole afternoon I was there together with my father, my mother, and a younger brother. Later that day, our neighbour came back and told everyone in the neighbourhood of problems downtown, that the Malays and the Chinese were killing one another.
We had an old TV set that we had just installed. We switched on the TV and there was news about Kuala Lumpur being under curfew. Read more: May 13, never again
The first thing that came across my mind was that we had to go back to Kampung Limau along Batu Road (now Jalan Tuanku Abdul Rahman). That's where our family home was, and my siblings were there. So, we jumped into my car, and we drove off. Stepping on the pedal as hard as I could, I soon reached a junction where a group of men holding iron rods were stopping vehicles.
The driver of the car in front of me looked Malay. The mob stopped this car and smashed the windscreen with an iron rod, but the car was allowed to move along. I was next. Seeing I was Chinese, they asked where I was heading. When I told them, one of them said not to go because the Chinese there had been killed, the houses had all been razed. I could see plumes of smoke rising to the sky from afar, but I told these people, 'No, I have to go. You cannot stop me.'
Along the way, I saw cars burning, things thrown all over the road. I knew things were bad. By the time I came to the river where the 24-hour Reddy Clinic was, things were so uncertain I had to stop. Along the river was a coffee shop. A police patrol car drove by, and when it passed the coffee shop, a group of Chinese men stopped the car. Without saying anything, they thrust metal pipes into the vehicle.
'It was like a war zone' It was then that I realised that law and order had broken down and I had to make my own decisions. I told my parents I would leave them at the Reddy Clinic and drive on to our home. My parents pleaded in tears. They said if it was fated that their other children would perish, at least four of us were together. But I said no. I was determined to go despite their pleading, and took my brother with me. We drove past more burning cars, shophouses set alight, until we got to the Campbell police station (now Dang Wangi police headquarters).
I stopped in hopes of getting more information, but it was just chaotic, people everywhere. From the police station, you can cut through some bushes behind a workshop to get to Kampung Limau. It was not far, less than 2km. As I walked behind the bushes, a mob rushed at me raising parangs. I told myself that I was going to have it this time. Then someone recognised me. They were people from my village. The kampung was not razed as I had feared, but these men were guarding the entrance.
The first thing I did when I got to Kampung Limau was to head home to find my siblings all there. Nearby was Teck Meng school a private Chinese-medium institution. I asked the caretaker to open the gate so we could evacuate there. He kept saying 'No! No!' so I forced the gate open with a crowbar and he fled. I know normally, this would have gotten me into a lot of trouble, but it was the last thing on my mind. My kampung people flooded into the school. People started coming and coming.
The place was packed. I mean, the scene was like people running away from a war zone. Some were carrying whatever they had, small little things. Babies and pregnant women. There were a lot of classrooms, and people filled them up. This went on until about midnight or later. I remember going up to the Teck Meng School rooftop and looking down at the city. I saw everything was burning. I was in tears. I asked myself, "What has happened? Why?"
A gun to my head Later that night, I snuck back to my car and drove back to Batu Road to where I left my parents. My car was the only vehicle on the road. As I turned into Maxwell Road (now Jalan Tun Ismail), my headlight shone on a group of people and I saw some of them were wearing sarung. I said to myself, 'Oh God, these Malays are going to kill me'. I stepped on the accelerator and I went straight for them. They jumped and I heard them yelling, but I didn't stop. There was another group of Malay people at the Ipoh Road roundabout. Fearful for my life, I sped on without stopping.
Then my headlight shone on something shiny – the badge worn by army personnel. I slammed the brakes and prayed the car would stop. By the time the car stopped, I could feel the muzzle of a gun on my temple. My car had no air conditioning and the window was wound down. I took out my police card and showed him. This chap looked at the card and passed it to another soldier. They let me pass. I was relieved to find my parents still at Reddy Clinic, just as they were relieved to know all their children were safe. We drove back to Teck Meng School. I was lucky the soldier holding the gun was not certain of what to do. If he had pulled the trigger, I would not be here telling you my story.



'Why don't we kill the Malays?' As the morning wore on, we had to defend Kampung Limau. We went back to the village and stationed ourselves along the river because the Malays were just across. We were armed because we were facing a mob. Some were holding parang, some were holding water pipes. I held a handsaw. My father was a carpenter, so he had saws. I thought that I was a police officer and I should not be caught in a situation like this, but what choice did I have?
Suddenly, I heard a gunshot and the guy next to me was shot in the stomach. He collapsed. A few of us carried him out to Batu Road and flagged down a passing ambulance. I later learned that he survived. Do you have a May 13 story? Join the conversation - share your stories or read more from others who were there. When I went back to the riverside, there was too much gunfire. I didn't know where it was coming from, whether it was the army or the Malay villagers. But we were no match, so we retreated. We were defenceless.
That was when some gang members from Jalan Sultan came down. Some of them had lived in Kampung Limau. There were 10 or 11 of them only, not many. Some of them said, "Why don't we kill the Malays? There are a few families here". When I learned that was happening, I went to them and said, "Look, that is not a good idea. "If we keep them alive and hold them as hostages, at least if we are attacked by the Malays from across the river, we can put them in front, and we will tell these people if you touch us, we will kill them in front of you."
They seemed to like my idea and I had saved these Malays, but how long could I have kept them safe? I knew I had to get them out. But how? There were 20 to 30 of them. By a stroke of luck, I saw two army trucks at Batu Road – they were in front of me. I took out my police card and stopped the trucks. I told them what was happening and they needed to move these Malay families out. I ran ahead of the trucks, but at a certain point, I had to disappear because I didn't want the secret society members to see me leading the army truck to the hostages.
From a distance, I saw all the Malays jumping into the two trucks and they drove off. Then I re-emerged, pretending nothing had happened. Leaving Kampung Limau After evacuating the Malay families, I had to think of my own. I was so tired then. I had not eaten, I had not slept. I don't know where my energy or where my spirit and determination came from, but I had to seek help. I ran to the Campbell Police Station, but the place was just as chaotic as the previous night. I saw an officer standing there trying to do whatever he could. I recognised him.
He was Gilbert Ang. Ang was the head of the secret society branch. I told him I was a probationary officer and I needed transport to bring my family out of harm's way. He looked at me and said, "I'm sorry I cannot help you." So, I had to reveal to him what I did before I joined the police force. I said, "You remember when you were head of the secret society branch, there was this chap who called you and gave you information about secret society activities, and who committed what and so on?



And these people were all from Kampung Limau?" He said, "Yeah, I remember. He gave us very good information". I reminded him how the informant did not want to meet him, but revealed his initials to be 'FY'. "I am FY. Foong Yee." Ang was shocked. He hugged me and asked me what I wanted. I told him I needed to take my family out to Kepong Baru, and there were some people in Kampung Limau who were from Jinjang and Kepong. Foong Yee survived the May 13 riot and went on to have a long career in the police force, retiring as deputy police chief of Kuala Lumpur.
Ang gave me a bus. It was a Sri Jaya bus. As I drove into Teck Meng School, people began attacking the bus thinking that they were under attack by Malays, but they calmed down once they saw me. I told them anyone who was staying in Kepong or Jinjang could get into the bus. My family got on, there were about 12 or 13 of us and then there was my sweetheart's family, six or seven of them. There were other relatives, a baby – my nephew Nicholas – and his babysitter who was mute. I had to leave the others to fend for themselves. I had to take care of my family first.
ANNABELLE LEE contributed to this article.
posted by Major D Swami (Retired) @ 9:05 AM

Murder and mayhem in Kampung Baru - my May 13 story Aidila Razak and Tham Seen Hau
Kuala Lumpur racial riots
Malaysiakini : Editor's note: The following article includes troubling details of the deadly riots on May 13, 1969. This dark episode of history is so painful that it is shrouded in secrecy and taboo.
Fifty years to the day, we are sharing several stories for generations of Malaysians born after the riots. May it serve as a lesson for today and our collective future. The following article contains graphic description of the violence that took place. Not everything can be independently verified. However, portions which can be corroborated are marked in blue hyperlinks. This is the story of an eyewitness to the riots of May 13, 1969.
A first-year student at Universiti Malaya at the time, he was caught in Kampung Baru, one of the hotspots of the riot. He remained there until May 16. Now 70, the eyewitness spoke to Malaysiakini on condition of anonymity, and confessed to prolonged and ongoing trauma from what he experienced 50 years ago. "Even now when I go to the mosque area, I get flashbacks of what I saw," said the witness, who is Malay. With tears in his eyes, he recalled an incident where a young Chinese family was set upon by a Malay mob.
"I don't know what got to me, but I became hysterical. I remember shouting: 'Let them go! Let them go! Kill me! Kill me!' I remember using those words. I tore off my shirt and went absolutely berserk. "I don't know why I did that, but I just couldn't accept it. When I saw two young children – a girl and a boy – crying and their parents shaking in the car, I couldn't accept it. What was their sin? Because they were Chinese? Why must they be the victims?" This is his story, as told to Aidila Razak and Tham Seen Hau.
Universiti Malaya campus registration started one week before May 13. I was born in 1949, so when I went to campus in 1969, I was only 20. I wasn't old enough to vote and it wasn't my concern. I was more concerned about how to get to campus without a motorbike. Universiti Malaya was far from where I lived – two bus rides away. So, I had to figure out transportation, how to borrow a bike, or find money to buy one. There were also friends from out of town enrolling who didn't have rooms, so I spent a lot of that time – the election period – helping them look for a place to rent.
And I didn't have money. I didn't have a scholarship, so I was looking for money to pay for the first-term registration fees, and also trying to help other friends who were in the same boat. That was our concern at the time. We were not into politics at all. We didn't know what was happening. We just wanted to start our life as a student, that's all. That was how we were before May 13. Then, May 13 happened.
A gathering at Harun's house
On the day of the riot, I was on campus when a senior asked me to get a few guys and head to Dato' Harun's house. I asked, 'Why? Will there be money? Or food?' He said there was a "perjumpaan" (gathering). In those days, it was normal for students to be called to attend events to make up the crowd. You might get some food – maybe nasi bungkus – or RM5, and it was enough to make us happy.
But this one was a bit odd because there was no announcement. My senior just whispered it to me. I didn't ask further because he was my senior and I respected him. We didn't have transport, so the senior arranged for some guys with motorbikes and we went – on five motorbikes. It was between 5pm and 6pm. Office workers had already left. Some of my friends who followed were from out of town and they thought it was an opportunity to see the city. That's how naive we were. When we arrived, I noticed it didn't look like the usual 'perjumpaan'.
There was no reception table, no pathway to go in, no banner. There were just people milling about. "It's okay lah, maybe there's food inside," I remember thinking, while we walked towards the compound. But inside it was even stranger. Most of the people looked like they were not from Kuala Lumpur, and they spoke to each other in Javanese. They also had this hardened look – different from the government clerks who would usually be at a 'perjumpaan'. The senior who invited us had disappeared into the crowd, so we tried talking to some of the people there.
They gave us the impression that we were supposed to already know what was going on. They said, 'Eh, takkan kau tak tau?' (Don't you know?) The first sign that something was a bit sinister was when I noticed they were distributing headbands, red cloth with Arabic script on them which translated to 'There is no God but Allah'. It was like the silat people. So, a couple of my friends decided to go back. They told me they didn't like the look of things, so I said, 'Okay, you go back first', leaving just three of us. I took the headband – everybody took it.
Then we were asked to put it on. I said, 'Look, I don't want to put on a red headband as if I am going to war.' They replied: 'You're supposed to know. This is what you're supposed to do'. A young boy delivering coffee I got a bit fed up, then I saw someone I knew. I asked him and he said, 'Kita nak berarak' (We want to march). This was the first time I was told what was going to happen. It seems there was to be a counter-demonstration against the victory marches by Gerakan and DAP the day before. I asked him what the plan was, and he told me we were all to meet at the big clock near Masjid Jamek and we were to demonstrate all over.
I asked him how many people are involved, and he said, 'Many, we're already 500 here.' It seems people were coming in from Klang, Negri Sembilan, Pudu and Setapak for this. I asked him if I should stay or go. He said: 'Kau balik, aku tetak' ('If you leave, I will slash you'). This was when I realised he had a parang on him. Then I noticed there were weapons hidden in the fencing hedge of Harun's compound. And people were getting restless. I heard chanting and prayers coming from inside the house. I was really, really scared and wanted to go home, but I couldn't because they locked the gate.
No one could go in and no one could go out. That was when the most terrible of things happened. It seems someone had ordered coffee from the nearby coffee shop at Jalan Gurney. This boy came, delivering coffee on a tray, and they killed him. I didn't see the killing, but I saw that he was dead. I didn't know about this, but it seems that at the time people were whispering among themselves that Malays were being killed by the Chinese in Setapak. After that, the mob stopped a van and killed the people inside.
I started moving towards the back, but I saw even the perimeter hedge at the back was guarded. I guess you can say a group of people walking together are marching, but when they opened the gate, the crowd wasn't marching; they were charging out. They were rampaging. Apparently, they heard stories of Malays being killed so they were rushing to defend them. All hell broke loose. 'Protect these areas' I didn't know what to do. My friends managed to get their Vespa and we decided to go to the mosque. There were people there who seemed to be leaders and the first thing they asked was if I had my headband. It was in my pocket. They told me to put it on.
Then they made me drink some water that someone had apparently prayed over. It was supposed to make you brave. After May 13, there would be lots of talk about powerful flying silat warriors and their magic keris or parang, but I never saw any of that. I only know that the water was from the pool in the mosque, where people performed their ablutions. Many people end up having diarrhoea that night. The men giving instructions in the mosque were the gangsters of Kampung Baru. I didn't see them in Harun's compound before, but now they were organising us into self-defence groups. They divided Kampung Baru into areas and said, 'You protect this area.' They didn't say, 'Kill Chinese people'. No. They told us to protect the area, don't let anyone in.
People are allowed to leave, but then if you leave, you die. They were afraid because the Chinese were moving in from Jalan Kamunting. Kampung Baru neighboured some Chinese villages so those living closer to the Chinese areas moved to the mosque for protection. Sultan Sulaiman Club was locked up because it neighboured Kampung Limau, a Chinese area. There was a nice house on the corner of Campbell Road (now Jalan Dang Wangi) and Jalan Ampang, and it was set alight by a Chinese mob. The Chinese were on one side and Malays on the other. Shiny sword-like parangs and guns
That night, after Isyak prayers, I was assigned to stand guard with 20 others at Jalan Raja Alang – the road leading to the mosque. It was then that we saw a group of Chinese on motorbikes riding towards us. The lights were still on, so we saw they were armed. They had pistols, and double-barrelled shotguns – at the time, many Chinese people had hunting guns. Some had shiny sword-like parang. The fear was so real. Nobody could have stopped them. We were the first line of defence and what did we have?
Besides a two-by-four plank – nothing. I didn't have a parang and I had to stand my ground. Some of us had sharpened bamboo poles. But that was it. They were coming from Chow Kit Road, going towards the mosque. If they passed through us, they would overrun the mosque. We were peeing our pants, to be honest. We were young boys; these were seasoned gangsters. We were shivering. Then they turned off onto a road that led to a Chinese temple. I don't know if it was because they saw us or because they had planned to go to the temple all along.
I was so scared, the only thing I didn't do was cry. The first night was quite haphazard – I would just follow other people so I ended up on guard at the area near the river, on the opposite of what was Lai Meng School. Lai Meng was on Jalan Ampang – a Chinese area – and we were on the other side of the river, in Kampung Baru. This is when I realised there were snipers. Those days, snipers were not something people were aware of, unlike now where you see them in the movies.
We just saw people getting shot. They just shot them. We were in a state of shock. Then one guy, I think maybe he had been in the army, said: "Eh, ada penembak" (Eh, there is a shooter). He told us all not to stay in the open. It seems some people tried to cross the river to check where the shooter was, but they couldn't. They were shot at too. We suspect the shooters were in Lai Meng. The Chinese were coming in from Setapak, Campbell Road, Batu Road (now Jalan Tuanku Abdul Rahman) – was there a plan for them to overrun Kampung Baru?






I don't know. But the gangsters organised people to guard those areas. There were multi-cultural gangs in KL then, so maybe they warned one another. A jeep full of rifles I was in Kampung Baru for three days – 13th, 14th and 15th. Lots of things happened in those three days. On the 13th, an army officer pulled up in Kampung Baru with a jeep full of rifles. I remember they were self-loading rifles because I got one and it was heavy. But most of us didn't know how to use firearms, and many got excited and shot aimlessly that we quickly ran out of bullets.
The officer didn't give us bullets, only whatever that was already in the rifles. This probably showed he was a rogue officer who did this on his own accord. I don't think it was planned. I also saw security personnel loading up their trucks and evacuating the wealthy people around Kampung Baru. It seems they were taken to the Police Depot or Defence Ministry area near Jalan Gurney. Many years later, I was told by those whose families had connections that they had been taken there and were taken care of. Houses and shops were being broken into as early as the 13th.
My sister-in-law's family lived in Kampung Baru and I saw them at the mosque. Their home was neighbouring a Chinese area and they left. Their home was broken into, but I suspect by Malays – they weren't all angels. In fact, some of the homes that were broken into were so deep in Kampung Baru that it would be impossible for the Chinese to have done it. This was also why the defence teams were formed. Read more: May 13, never again The several Malay kampung were surrounded by Chinese provision shops, and when the riot broke out, some people broke into the Chinese shops to try to destroy the 'buku hutang' (debt ledger).
But little did they know the Chinese tauke took that with them when they fled. I broke into some shops, too. There was no food for the many families in the mosque, so we went looking in the middle of the night. I tried to look for cigarettes to steal, but there were none. It seemed that someone else had broken into the shop before us. But my friend found a sack of rice. He carried it to the mosque. When we opened the sack, we found it was salt, not rice.
Funny things like that happened, even in the middle of the carnage. Another friend – a little person, four feet tall, no inches – tried to steal some live geese from nearby Chinese homes. The Chinese reared fowl and geese. The geese were as tall as he was, and he was lifting them by the neck and running. 'Kill me! Kill me!' By the second day, bodies were floating in the Klang River – Malay, Chinese, Indian bodies. The mosque elders gathered a group to remove Malay bodies, to give them a proper burial.
In the end, the police took them all to the morgue. I witnessed them fishing out the bodies near Kampung Cendana. I saw them carry out six to eight bodies. They went by facial features; the male bodies were checked if they were circumcised. The ones who did not look Malay were left in the river. On May 15, another man and I were instructed to take out two bodies from a dumpster. They were two Malay women; cabaret dancers working at the Great Eastern Cabaret at Campbell Road.
We handed over the bodies to the police. Something happened to me that day, and I have never told anyone this before - not even my children. That day, I was almost killed. There was this family – a Chinese family – who, for whatever reason, was driving close to the intersection of Campbell Road and Jalan Ampang. They had to pass through a Malay mob. I can still see them – a father, a mother and two young children; a girl and a boy. They were in a small car, a Fiat 600 with a Perak plate.
The mob surrounded them and tried to overturn the car. I don't know what got to me, but I became hysterical. I remember shouting: 'Let them go! Let them go! Kill me! Kill me!' I remember using those words. I tore off my shirt and went absolutely berserk. I don't know why I did that, but I just couldn't accept it. When I saw two young children – a girl and a boy – crying and their parents shaking in the car, I couldn't accept it. What was their sin? Because they were Chinese? Why must they be the victims?
I have tears in my eyes now, when I think about it. I didn't know why I did it; I still don't. There is just something inside you. I don't understand it. The car managed to speed off, but then the mob started to turn on me. That's when the gangsters of Kampung Baru saved me. They stopped the mob, and they said: 'He has done something good. We should stop this.' I think it was then I realised peace was being brokered. It seems that the Malay gangsters and Chinese gangsters were meeting and brokering a peace deal.
This part of May 13 was never documented. I have no reason to doubt this – the gangsters were so powerful they could have burned down KL if they wanted to. Do you have a May 13 story? Join the conversation - share your stories or read more from others who were there. There were many other stories of people helping one another. There was a Malay foreman at a workshop on Campbell Road. When the riot broke out, a Chinese family took him in and hid him in their ceiling. We helped take him out of that house days later. Our television repairman, a Chinese guy we knew well, said he was repairing the television for a Malay family in Kampung Datuk Keramat.
They refused to let him go home, dressed him as a Malay and kept him in the house until the situation was safer. 'The Chinese are coming' I managed to go home on May 16. My mother almost fainted when she saw me. I was among so many people who went missing those few days. She thought I was dead. In the next few days, the only thing she didn't do to keep me indoors was to handcuff me. I had many sleepless nights after that. I would wake up in the middle of the night thinking
'The Chinese are coming'. It would be a year before I would be able to go back to Kampung Baru. Even now, when I go to the mosque area, I get flashbacks of what I saw. The university was closed for one week because of the riots. By the time we went back, things were different. No one wanted to talk about what happened. In markets, even in Chow Kit, people would give way to each other.
"Minta maaf encik, tumpang lalu, tak apa, tak apa" (Excuse me sir, coming through. No worries, no worries) – you heard those things a lot. People were careful and polite. On campus, the Chinese Language Society would approach the Malay Language Society and the Muslim Students Association before hosting a lantern festival. They would ask the Malay societies even before they got permission from the university. Secretly, people were arming themselves. My mother bought so many parang, one each for her sons, and some people would hide the parang in their cars.
My friend, a Chinese, told me they now had a 10-feet-long spear in their home. Self-defence training, and selling protective charms and amulets became a new industry. The psyche had changed. KL had changed. I went to a missionary school and most of my classmates were Chinese. We had known each other since Form One. Many of them were also at the university, but after May 13, we started looking at each other funny. We would still talk, but the warmth was no longer there. One day, I reached out to some of them and we decided we needed to talk about it. So, we did and because we all tried to overcome it together, we are still good friends to this day.
Our story is one of Malaysians who grew up together and survived this ordeal together. Today, my blood boils when I hear young people threatening another May 13. I want to ask them: 'Where were you on May 13, 1969? Still in your mother's stomach or still wearing short pants?' I want to tell them: 'You have not faced a group of guys carrying shiny parangs coming at you when all you had was a piece of wood to defend yourself. You don't know what it's like.' I was there and I can still smell the blood. I have tried to forget it for 50 years.
It is something so painful we just want to forget. It's so painful to know this young boy was killed because he innocently, not knowing what was going on, delivered coffee. When I think about it, I cannot accept that reality. People like us don't want to talk about it and we'd rather keep quiet and hope it will never happen again. The only reason I am talking about it now is that I think it's time. Many of us who witnessed it have died. I want this story to be a lesson.
It is my fervent wish that it will never happen again.
posted by Major D Swami (Retired) @ 9:00 AM

May 13, never again - The 1969 riots that changed Malaysia
Malaysiakini : The following article includes troubling details of the deadly riots on May 13, 1969. This dark episode of history is so painful that it is shrouded in secrecy and taboo.
We tell this story today - 50 years to the day - for generations of Malaysians born after the riots. May it serve as a lesson for today and our collective future. The Japanese occupation and British rule fostered communal distrust and saw several smaller ethnic clashes.
In weeks before polling day on May 10, two party workers were killed in Penang and federal capital Kuala Lumpur. One was from Umno, another from the communist-linked Labour Party. A funeral procession involving thousands was held for the Labour Party worker in KL on eve of polling. Tensions were high. Early results showed the Alliance lost much ground to Chinese-dominated opposition parties DAP and Gerakan. In Selangor - where KL was located - the assembly was hung.
The first death - a boy Jalan Raja Muda Abdul Aziz Some Malays who were in the earlier clash arrive on scooters and decry "Setapak dah kena langgar". The mob retaliates by killing a Chinese boy delivering coffee. (Read more)
Read it all here......................
posted by Major D Swami (Retired) @ 8:59 AM

Operation Jala Aman , the greatest blunder in the annals of the Malaysian Army where 11 soldiers died, Fratricide
Monday, February 03, 2020
Why were there 11 deaths during Operation Jala Aman in the Rajang Area Security Command in 1983? Was it fratricide, blue on blue caused by incompetent leadership? This operation was launched as information was received that there were a large number of Communist Terrorists about to move into that area. They deployed every available troops they could get their hands on. That included clerks, cooks, drivers, mechanics and etc etc in the cordon?
I think personally speaking the deaths were caused by incompetency and poor application of principles in the cordon and search. Plus the fact that all participating were Non Infantry in the cordon group. The "bright bulbs" had the cooks, clerks, mechanics pair up with the Infantry troops in small groups.
The Non Infantry had no real experience in night time combat and ambush, they were jittery, nervous and trigger happy. It was a tragedy waiting to happen. I guess in the dark where visibility was nil, they shot their friends who were with them when they heard noises. One shot was all it took for hell to break loose that night, they opened fire wildly, panicking that the enemy was amongst them. It happened at various locations within the cordon groups, only God knows how many were wounded.
The victims were 5 were from the Royal Malay Regiment, 4 from 24 RMR and 1 from 3 RMR, an Officer from the Armored Regiment and 4 from 8th Rangers and 1 (serial no.17 not from 8th Rangers) from the 4th Rangers. Corporal Noah ak Olih was the father of Warrant Officer 2 Breanau Noah of the Seventh Rangers. Apparently there are no records at the Infantry Directorate on this incident, why do you think??? I guess the records have been expunged. If you look into the history of the participating battalions in that operation, they will say the soldiers died due to enemy action. No enemy was killed, neither were they there. I guess there were 4 Generals involved in this fiasco.
Night combat is not going to end well when the cooks, clerks, drivers, mechanics and all the supporting elements are not trained for it. Using the Infantry to off set that short coming will only end with a high cost in lives.
Was anyone held accountable? I guess the Generals qualified for a pension and lived to a ripe old age, whilst our poor warriors who died in this tragedy are quietly forgotten? They were fathers, husbands and sons, who died needlessly
posted by Major D Swami (Retired) @ 6:53 PM

All the images of the Ambush where 15 soldiers of 7th Rangers were killed
Saturday, February 01, 2020
15 Soldiers of 7th Rangers ambushed and killed by the Enemy
The Enemy with captured weapons, all of them in the ground
Enemy location behind a tree trunk
The Bedford Truck hit with heavy enemy fire burnt
Typical congratulatory message of kills after follow up operations success
Ath the site of the ambush
Another angle
The fallen and the wounded
posted by Major D Swami (Retired) @ 11:37 AM

15 Soldiers of 7th Rangers ambushed and killed by the Enemy
Thursday, January 30, 2020
Security Forces early this .............See all the images here..............

One of the survivors of this ambush sells fish at the market where the UTC is located, in Ipoh. You can identify him, as he is the one with a missing finger. His name is Zainuddin, I dare not approach him as I can do nothing for him. Mindef conveniently forgets its wounded Veterans. Unlike pretenders who are given credit!
This is one of the greatest losses experienced by the unit. It was one sorry episode. An adminstrative move early in the morning, turning into a bloodbath. It comprised of 1X Landrover, 1 X 3 tonner of engineers who were attached to 7th Rangers. The Engineers had completed some construction work at Camp Biawak. They had to return to Kuching. There were another two trucks of 7th Rangers. Most of the 7th Rangers personnel comprised of administrative soldiers.
The order of movement was the Engineer's Landrover leading, the second being their truck, the third and fourth vehicle being the Ranger's trucks. The Enemy did not open fire on the lighter armed Engineers, they waited for the Ranger trucks to get into the killing area, once the trucks were inside the killing area the Enemy opened up with everything they had from prepared positions, the Rangers ( 20 soldiers) did not have a chance, those not killed outright were wounded, some badly. The Enemy force was 30-40 strong.
The Engineers who were less than a section strong (less than 10 men), made a wise decision by speeding off to a place called Titi Akar, where there was a troop of 1st Reconnaissance Regiment soldiers, to seek help. One very brave individual, who was a Corporal from that troop along with his driver dashed off at first, on his own in his Ferret scout car.
The name of the Ferret Scout Car Comd was Kpl Jamalludin from 1 Recce (for this infor thanks to Lt Col Ratnam). Soon to be followed by the rest of the troop. When the Enemy saw the approaching scout car speeding toward them with it's sole gun blazing, made a hasty withdrawal. He single handedly was responsible for saving the wounded who had put up a futile resistance, on the verge of being slaughtered. The enemy's priority at that time was to gather equipment and weapons. They took away almost all the weapons. With the arrival of that brave individual and his driver from the 1st Recce Regiment, the Enemy did not have the opportunity to finish/kill off the rest of the wounded soldiers.
The news reached Battalion Headquarters, announcements were made throughout bars, theatres and the town to regroup the rest of 7th Rangers. Massive follow up operations were conducted, to track down the enmy. In the ensuing engagements with the Enemy, many of the Enemy were killed and also captured and the weapons recovered.This was aided by other friendly forces (Other units). It took a very long time to hunt and kill the enemy. The last of the weapons recovered was in 1986, almost 14 years !
See the names of the fallen, the Enemy and the ambush position....
This ambush happened on the 26th March 1972 along the Biawak / Lundu road. The cutting on the right shows the follow up operation conducted after the ambush. The enemy fired from prepared locations.
* Note. I would appreciate it greatly if someone would help me correctly identify the Lance Corporal and his driver from the Recce Regt, the Troop and Squadron.
If there are any inaccuracies please contact me. The above incident was related to me by Lt Col Zulakpli Abdul Rahman, who was then a subaltern in 7

th

Rangers. The follow up which was successful was conducted by Captain Sabdin Ghani.
Brave Sabahans who fought the Reds. By: Sherell Ann Jeffrey
THE first batch of Sabahans who served in the Malaysian Armed Forces as part of the Sabah Ranger unit were also involved in tracking down communists, both along the Thai border and in Sarawak. In fact, Capt (rtd) Abdullah Yusof, who was 23 when he joined the Rangers in 1963, remembers it like it just happened yesterday.
Now in his 70s, Abdullah said he and two other Sabahan officers serving in the ranger regiment - Major Sabdin Ghani and Capt Boniface Jingulam - were ordered to hunt down the communists responsible for ambushing and killing 15 members of the Ranger Seven unit who were on their way back from Sik Guruh, known as Mong Gajah. All three were posted to the newly-formed Ranger Seven regiment based in Kluang Camp Johor. "It was in 1970 and the unlucky team was headed back to Sungai Petani when they were ambushed by communists. "Me and the other two Sabahan officers were assigned to track them down.
However, we were unsuccessful because the communists managed to escape across the Thailand border," he said. But luck was on their side on another occasion when the Ranger Seven unit was sent to Lundu Sarawak for operational duty and another 15 Malaysian soldiers were killed - also in an ambush. This was in early 1972. "We suffered the worst casualties when some 30 communists ambushed our convoy comprising office clerks and food transporters on the way back from sending supplies to our post in Biawak, Indonesia.
The regiment lost 15 men and several were seriously wounded. We also lost weapons, and radio set. It was the first time the Malaysian Armed Forces lost a radio set this way. He said the next day, they were assigned to track down the communists but three weeks passed without any results. Abdullah said tracking down communists can be complicated because they sometimes disguised themselves as rangers in order to hoodwink the people.
"When they enter the villages for food supplies, the villagers couldn't tell if they were communists or rangers because of the uniform. "The problem was made worse by the fact that both the rangers and the communists had various ethnic races as members like Iban and Chinese. "Three weeks after the ambush, the regiment received information that a group of communists will move at night from Kg Perian to the main road towards Kg Bokak. At 11pm the commanding officer assigned us to track and ambush the terrorists.
There were 20 of us. "At midnight, we managed to ambush the communists killing two terrorists during the attack. We also managed to retrieve the radio set and several weapons." Because of this, Abdullah was awarded the "Honorary Ahli Bintang Sarawak" by the Sarawak Government. We also managed to kill two communists in Lundu District," he said. Abdullah said life as a ranger was really challenging yet enjoyable. Sometimes they are required to sleep in the jungle for weeks, sometimes for a month.
"We have permanent base camps built along the border. These are equipped with all the necessary facilitiesÉwe even had a volley ball court. "Its only when we stay in the jungle that we need to ration our food. What we usually ate was baked beans from the tin, chicken or lamb curry. But in those days, canned food was really heavy. One pack for five days in the jungle could weigh up to five kilos. "We will be assigned to go to a certain spot to get new food supply, which will be sent by helicopter. We usually carry food supplies enough for a week" he said.
Another danger they had to contend with were traps laid by the communists in the jungle. He said the use of hidden traps was common during those days. These usually comprised empty tins filled with explosives, which could explode as far as 200 feet. "The traps are commonly set near big trees because it is human nature to instinctively hide behind big trees when attacked." Abdullah said the departing colonial administration formed two battalion ranger regiments called Sarawak Ranger One (Sarawak 1st Ranger) and Sabah Ranger Two (Sabah 2nd Ranger) in conjunction with the formation of Malaysia in 1963.
It was in August that year, barely a month before the formation of the new Federation comprising Sabah, Sarawak, Singapore and Malaya. The British decided to form a ranger regiment for both these States comprising some 600 native recruits. The officer in charge of recruiting the Sabahans was Major Plain and staff of the British army. Major Plain and his staff went all over Sabah and managed to enlist 120 young Sabahans for the first intake which had all races, including a few Chinese.
The 2nd Ranger battalion was formally set up at Ulu Tiram camp in Johor and most of the senior officers were drawn from the British army and Royal Malaysian Regiment. He said both the Ranger battalions were commanded by Col Welsted while the Commanding Officer for the 2nd Rangers was Lt Col Wood MC. The group then moved to the Gurkha training centre at Sungai Petani. In 1965, at the time of Singapore's separation from the new-formed Federation. The British government handed both Sarawak One and Sabah Two Rangers to Malaysia and some 160 Sabahan youths that choose to enrol in the Malaysian Armed Forces came to take the Oath of Allegiance to the nation.
It was then that the Sabah Ranger Two was renamed Ranger Seven. The first Sabahan officer commissioned was Maj (B) Sabdin Ghani in 1964, followed in 1965 by Lt Col Chin Kee Fong @ Johan Chin, Abdullah Hj Yusof, Kapt (B) Terence Sthalman, Kapt (B) Boniface Jingulam and Kapt (B) George Lai from Tuaran. Before joining the Rangers, Abdullah was telephone operator based in Queen Elizabeth Hospital and later was posted to work as a telephone technician in Karamunsing in 1961.
"When I heard of the recruiting exercise in 1963, I immediately resigned from my job and joined. We were offered a salary of RM60 a month at that time. "All our essentials were provided for by the Navy, Army Airforce Institution (NAAFI) including shoes, clothes, food, even the cigarettes were given free once a week. The salary I got was usually spent on things like bread." Abdullah, who served as a ranger for 14 years, said among the first Sabahan soldiers to be killed directly or indirectly due to conflict was Ranger Mohd from Tuaran, who was killed by mortar bomb in Kg Mentadak, Pulau Sebatik.
He said the first Sabahan non-conflict casualty was Ranger Albert Matanjang from Penampang who drowned during a river crossing exercise at Sg Jenang Kedah in 1964. He said many Sabahans joined the rangers in 1963 but his batch comprised the first Sabahans to join the Malaysian Armed Forces. "But, sadly, a majority of us who served in those days did not receive any form of recognition from the State Government until today. "I hope the State government would do a survey on those who served the country in the 60s.
We have an Ex-Servicemen Association of Malaysia but most of them are not the original members from the 60s," he said, adding they plan to celebrate the 50th anniversary in conjunction with the formation of the Rangers in Malaysia. Charlie Kwan now also in his 70s and another former Ranger, joined the force in 1963 when he was 22. "At that time it was the Indonesian confrontation.
I was looking for a job and thought I might as well join the army and fight to defend my country," Kwan said. "I became a rifle man in 1965 but in 1966 I was assigned to work in the headquarters because I could speak and write English well. My job was to manage the salary. Those days, salary was paid by cash and we will go around to the operation sites in trucks to distribute the money," he said.
From the Daily Express, plagiarized for the purpose of History, my sincerest apologies to the Daily Express, just could not resist for the sake of History had to remember the 15 fallen warriors, thank you Sherell Ann Jeffrey.
posted by Major D Swami (Retired) @ 7:32 PM

ARCHIVES
Previous Post
Links
Links To Rangers
Military Related Links
XXXX

xxxx
xxxx
XXX
XXXX
World
xxxx
Advertistment
Advertistment
XXXXXXXX
Advertistment
XXXXXXXX
Advertistment
XXXXXXXX
Advertistment
XXXXXXXX
Advertistment
XXXXXXXX
Advertistment
XXXXXXXX
Advertistment
XXXXXXXX
Advertistment
XXXXXXXX
Powered by